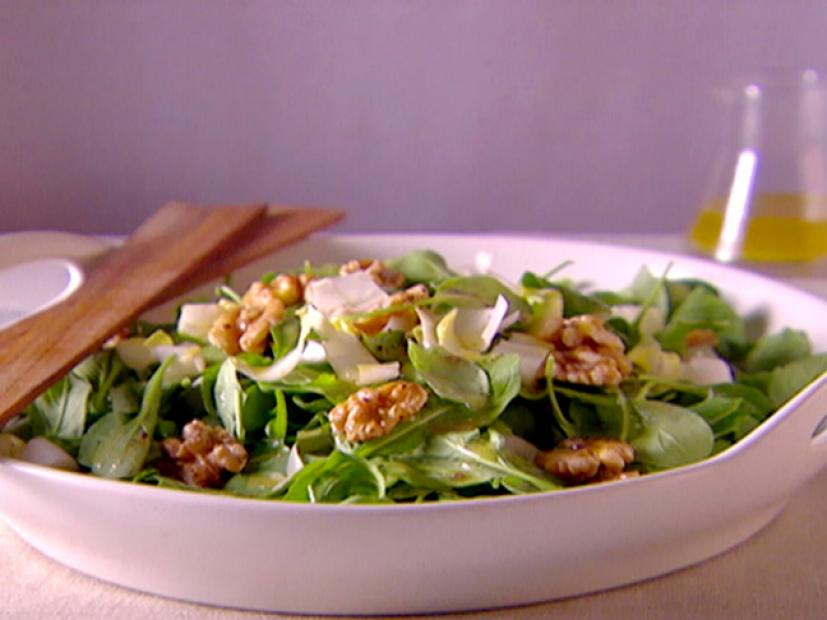 Prep Time: 15 min
Number of Servings: 4
Brief Description
Food Network, Glada De Laurentiis
Number of Servings:
Only quantities of ingredients are changed; recipe Directions below will not reflect those changes.
Ingredients:
For the vinaigrette:
2 tablespoons - white wine
2 tablespoons - lemon juice
1/2 teaspoons - honey
1/2 teaspoons - mustard
1/2 teaspoons - salt
1/4 teaspoons - freshly ground black pepper
1/4 cups - extra-virgin olive oil
For the salad:
4 ounces - arugula
2 heads - of endive, chopped
1/3 cups - toasted walnuts
Directions:
For the vinaigrette:
Mix the wine, lemon juice, honey, mustard, salt, and pepper in a blender. With the machine running gradually blend in the oil. Season the vinaigrette to taste with more salt and pepper, if desired.
For the salad:
In a large bowl combine the arugula, endive, and walnuts. Toss with 1/4 cup of the vinaigrette to coat and adding more vinaigrette, if desired. Serve immediately. Any remaining vinaigrette can be saved in an airtight container in the refrigerator for 3 days and should be brought up to room temperature before using.
Brief Description
Food Network, Glada De Laurentiis
Category:
Source
https://www.foodnetwork.com/recipes/giada-de-laurentiis/arugula-endive-salad-with-white-wine-vinaigrette-recipe-1953676
Print Recipe