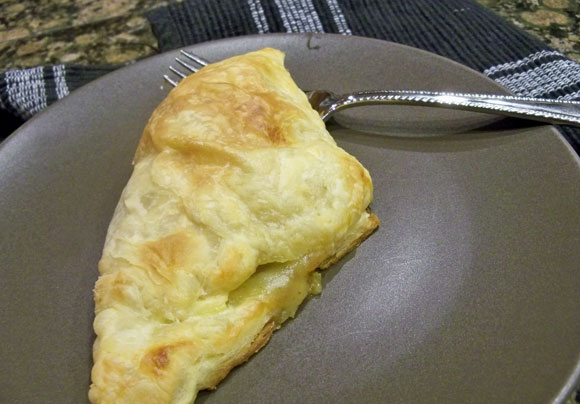 Prep Time: 15 min
Cook Time: 20 min
Number of Servings: 8
Brief Description
Qucik apple pie tarts with puff pastry, perfect for finger-food dessert.
Number of Servings:
Only quantities of ingredients are changed; recipe Directions below will not reflect those changes.
Ingredients:
2 - medium Fuji apples, peeled, cored, diced
1 tablespoons - all-purpose flour
2 tablespoons - unsalted butter
1/4 cups - golden raisins
2 tablespoons - sugar
1 tablespoons - fresh lemon juice
1/8 teaspoons - ground ginger
1 - egg, separated
1 packages - frozen puff pastry sheets, thawed
Directions:
Heat oven to 400 degrees. Toss diced apples with flour. Melt butter in a large nonstick skillet over medium heat. Add apples, golden raisins, sugar, lemon juice and ginger. Cook, stirring, 4 to 5 minutes or until apples are tender. Remove from heat and let cool. Stir in egg yolk.
Unfold 1 pastry sheet on a lightly floured surface. Roll out slightly to measure 11 inches square. With pizza cutter or sharp knife, cut pastry into 4 equal squares.
Spoon 1/4 cup of the apple mixture into center of 1 square. Brush edges with egg white. Fold in half diagonally to form a triangle. Pinch edges to seal, and transfer to an ungreased baking sheet. Repeat.
Bake at 400 degrees for 14 to 15 minutes, until puffed and nicely browned on top. While turnovers bake, repeat rolling, filling and folding with remaining pastry sheet, filling and egg white.
Remove turnovers from pans to wire rack to cool, 10 minutes. Best if served same day as baking; reheat in 350 degrees oven for 5 minutes.
Brief Description
Qucik apple pie tarts with puff pastry, perfect for finger-food dessert.
Print Recipe