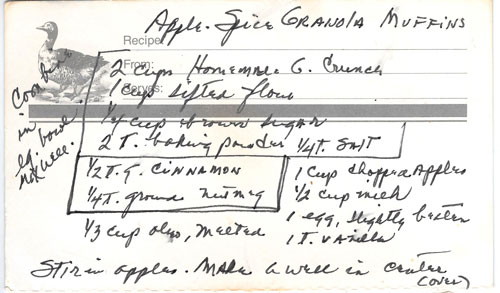 Prep Time: 25 min
Cook Time: 20 min
Number of Servings: 12
Brief Description
Spiced apple muffins.
Number of Servings:
Only quantities of ingredients are changed; recipe Directions below will not reflect those changes.
Ingredients:
2 cups - homemade granola crunch, see recipe on Dish Dish
1 cups - sifted flour
1/4 cups - brown sugar
2 tablespoons - baking powder
1/4 teaspoons - salt
1/2 teaspoons - ground cinnamon
1/4 teaspoons - ground nutmeg
1/3 cups - oleo or butter, melted
1 cups - chopped apples
1/2 cups - milk
1 - egg, slightly beaten
1 teaspoons - vanilla
Directions:
Combine granola crunch, flour, brown sugar, baking powder, salt, cinnamon, and nutmeg in a large bowl; mix well.
Stir in apples. Make a well in center .
In another bowl combine milk, oleo or butter, egg and vanilla. Pour into granola mixture and stir to combine.
Spoon into greased muffin tins and bake at 400 degrees F for 15 to 20 minutes.
Brief Description
Spiced apple muffins.
Main Ingredient:
homemade granola crunch
Print Recipe