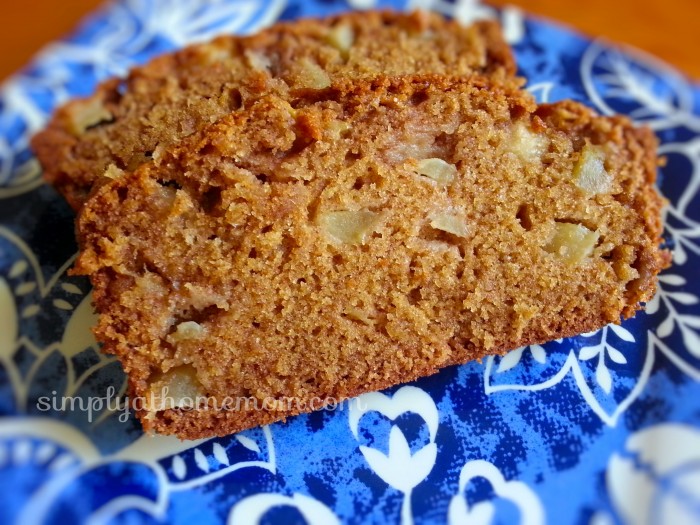 Prep Time: 30 min
Cook Time: 1 hour(s)
Number of Servings: 2
Brief Description
This quick bread is chock full of chopped apples.
Number of Servings:
Only quantities of ingredients are changed; recipe Directions below will not reflect those changes.
Ingredients:
3 cups - apples, peeled, chopped in small pieces
1 1/2 cups - unbleached flour
1 1/2 cups - whole wheat flour
1 cups - white sugar
1 cups - brown sugar
1 teaspoons - baking soda
1 teaspoons - salt
1 cups - canola oil
3 - eggs, beaten
2 teaspoons - cinnamon
1/4 cups - water, if needed
Directions:
1. Preheat oven to 350 degrees F. Prepare 2 loaf pans (9 x 5) with cooking spray.
2. Mix flour, baking soda, salt, and apples in a large bowl. Whisk oil, sugar, eggs, and cinnamon together in a small bowl; add to flour mixture and mix until just moistened. If the batter seems a little dry, add the 1/4 cup water. Evenly divide mixture between prepared loaf pans. Pans should be about halfway full.
3. Bake in preheated oven until a toothpick inserted into the center comes out clean, about 1 hour. Cool in the pans for 10 minutes before removing to cool completely on a wire rack.
Serve with butter; but it's just as yummy all by itself.
Brief Description
This quick bread is chock full of chopped apples.
Print Recipe