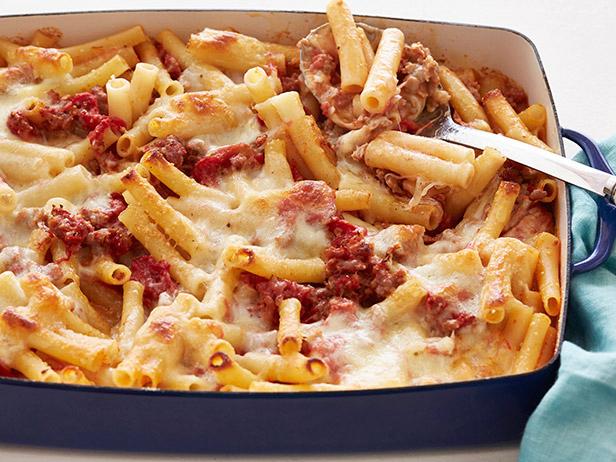 Prep Time: 30 min
Cook Time: 35 min
Number of Servings: 10
Brief Description
* Ziti
* Ground turkey
* Basil
* Pepper flakes
* Mrs. Dash all purpose seasoning
* 8 oz. skim mozzarella
* 15 oz. skim ricotta
* Low sodium pasta sauce
* Parmesan cheese
Number of Servings:
Only quantities of ingredients are changed; recipe Directions below will not reflect those changes.
Directions:
- BOIL ZITI TO AL DENTE (STILL A BIT CHEWY TEXTURE) OPTIONAL:
- SALT THE WATER
- COAT LARGE SKILLET WITH COOKING SPRAY
- BROWN THE GROUND TURKEY (USE LEAN TO SAVE MORE CALORIES AND REDUCE FAT GRAMS)
- SEASON THE TURKEY WITH BASIL, MRS. DASH ALL PURPOSE SEASONING, CRUSHED PEPPER FLAKES, AND A LITTLE SALT.
- SEASONING THE MEAT IS ALSO OPTIONAL
- IN A LARGE MIXING BOWL COMBINE 8 OZS PART SKIM
MOZZERELLA, 15 OZS PART SKIM RICOTTA, AND PASTA SAUCE
-AFTER COMBINING SAUCE AND CHEESES, ADD COOLED ZITI AND
GROUND TURKEY.
-MIX WELL TO COAT EVENLY
-POUR INTO A LARGE BAKING DISH. TOP WITH REMAINING SAUCE AND -PARMESEAN CHEESE
-COVER WITH FOIL TO PREVENT TOP LAYER FROM BURNING
-PUT INTO A PREHEATED OVEN (350 DEGREES)
-BAKE FOR 30-35 MINUTES
-UNCOVER FOIL AND SERVE IMMEDIATELY OR LET REST A FEW MINUTES
Brief Description
* Ziti
* Ground turkey
* Basil
* Pepper flakes
* Mrs. Dash all purpose seasoning
* 8 oz. skim mozzarella
* 15 oz. skim ricotta
* Low sodium pasta sauce
* Parmesan cheese
Main Ingredient:
pasta, turkey
Notes
THIS RECIPE SERVES ROUGHLY 8-10 PEOPLE.
Print Recipe