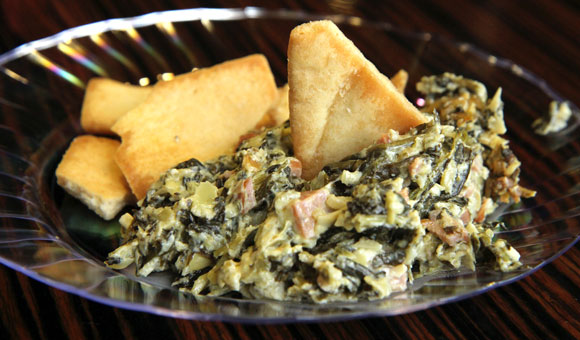 Prep Time: 15 min
Cook Time: 40 min
Number of Servings: 8
Brief Description
A spicy artichoke and spinach dip with andouille sausage.
Number of Servings:
Only quantities of ingredients are changed; recipe Directions below will not reflect those changes.
Ingredients:
1 packages - frozen chopped spinach
2 cans - artichoke hearts
1 pounds - ground Andouille sausage
1/2 cups - mayonnaise
1/2 cups - cream cheese
2 tablespoons - creole or Dijon mustard
1 cups - freshly grated Parmesan
1 cups - grated pepper jack cheese
Directions:
Preheat the oven to 350 degrees F. Grease a casserole dish with nonstick spray.
Spray medium size sauté pan with nonstick spray, over medium heat brown sausage. Drain and set aside.
Heat the spinach in a microwave oven on high for 5 minutes and squeeze dry. Drain the artichoke hearts and coarsely chop in a food processor.
Combine all the ingredients except the jack cheese in a large bowl. Stir well. Scrape into the prepared casserole dish and sprinkle the jack cheese on top. Bake for 30 minutes or until cheese is lightly brown and melted on top.
Brief Description
A spicy artichoke and spinach dip with andouille sausage.
Main Ingredient:
andouille sausage
Notes
Substitute crab meat for the andouille sausage for a less spicy version. You can make this a couple of days ahead, except don't top with grated cheeses, and store in fridge until ready to use. Remove from fridge and let come to room temp for about 45 minutes before topping with cheese and baking.
Print Recipe