Happy Memorial Day Weekend!
With Memorial Day weekend nearly upon us, we wanted to reflect for a few minutes about the real Memorial Day meaning and why we love Memorial Day weekend. In the United States, we celebrate Memorial Day to honor those who died while serving our country in the military. Many will place flags or decorations on the graves of the fallen and will pause to remember the great sacrifice made to ensure the freedoms we enjoy today.
Since Memorial Day also generally signals the onset of summer season, we often celebrate with picnics, parades, parties with family and friends, and family reunions full of refreshments, games, and smiling faces.
We might have to be cooking indoors this year, with the rainy forecast outlook for the weekend here in Texas.  But maybe you will have sunshine in your neck of the woods and be able to enjoy some great outdoor food – grilling and hosting a picnic or potluck for the whole family.
Either way, we have some terrific Memorial Day recipes perfect for dishing up at your gathering this weekend.
Memorial Day Recipes – Main Courses
For the main course, you could always go with traditional grilling options like Hamburgers, Sausage, Chicken, or Ribs.  (For really large groups, it might be easier to do a crockpot dish such as Buffalo Chicken Sandwiches or Shredded Chicken Tacos.)  For a different twist on a traditional burger, try one of these recipes.
Smoky Barbecue Burgers – Made with bacon, garlic, onion, and barbecue sauce for seasoning, and stuffed with cheese (think outside the box with provolone, blue cheese or mozzarella).  If you'd rather not do the "stuffing" option, simply top the patty with cheese during the last couple of minutes of grilling, so it melts nicely.
Memorial Day Recipes – Side Dishes

Especially if you're eating outdoors, the side dishes can get a little tricky – dealing with the heat or bugs or both.  Remember to use a screen cover or something similar to keep the bugs out of dishes being served outdoors.  And if you're worried about the heat getting to a dish, try setting the serving dish into a larger bowl or tray filled with ice/water to keep the dish cool.
We have some quick easy recipes (some you can even make ahead the night before) that will let you enjoy the party, too (rather than spending as much time fussing with the food). Mix up a colorful fruit salad or string fruit pieces (strawberries, grapes, pineapple) onto decorative skewers for fun fruit kabobs (makes easy finger food – the kids might even help with this task), your favorite salad or a nice vegetable tray.  We also like these side dish options:
Avocado Deviled Eggs
A green twist on the traditional deviled egg recipe with added avocado.
Red Potato Salad with Green Beans
Tossed in a light Dijon vinaigrette (no mayonnaise)
Italian Style Pasta Toss
Corkscrew pasta with zucchini, cauliflower, peppers, olives, pepperoni & cubed cheese in an Italian vinaigrette.
Memorial Day Recipes – Beverages

Isn't one of your favorite thing about a party or picnic, the excitement of serving beverages that are a little out of the ordinary, something special for the occasion?  We like serving up some colorful drinks like Strawberry Lemonade, Peach Lemonade, Blackberry Limeade, or this delightful watermelon beverage (below photo by Pori He on Unsplash).
Watermelon Cooler
4 cups seedless watermelon (rind removed, sliced)
1 cup lemon sorbet
1 lemon (zested)
1-1/2 cups cold water
watermelon wedges and fresh mint, for garnish
In a food processor, blend watermelon, sorbet and lemon zest until smooth.  Stir in the cold water, then cover & refrigerate until very cold. Serve over ice and garnish with watermelon wedges and mint, if desired.  (Serves 6-8)
Memorial Day Recipes – Desserts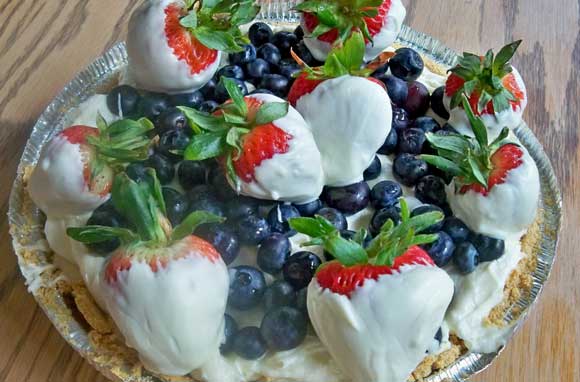 And finally we have made it to dessert.  For some of us, our favorite part of the meal, right?  Try a make-ahead dessert like this Chocolate Chip and Strawberry Trifle, a Creamy Strawberry Pie, or make your favorite type of cake and top with vanilla or cream cheese frosting with rows of blueberries, raspberries, and frosting for a patriotic treat.
Remember to have fun with the little ones, too, and let them help in the kitchen.  It's a great way to encourage their cooking endeavors, share family time, incorporate some family history and traditions, all while teaching them some great life lessons.  We hope you enjoy a wonderful weekend with your family and friends and remember to honor those who gave their lives valiantly on our behalf.
Capture photos and save all your favorite family recipes along with pictures in your online cookbook here at Dish Dish for easy organizing, sharing, and finding when you need them.
What do you enjoy most about Memorial Day Weekend?  Do you have favorite recipes, dishes, traditions, or activities centered around Memorial Day?  Please leave us a comment and let us know!