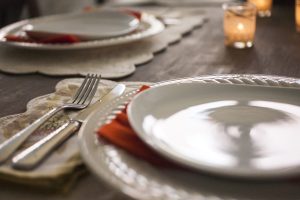 Does planning a Thanksgiving meal for family and friends seem overwhelming and stressful?
Coming up with a detailed list and planning ahead helps organize all the tasks into a manageable group of activities that can easily be accomplished with much less stress (knowing all the details are accounted for), allowing you to spend and enjoy more time with your family and friends for the holiday.
What if you knew which tasks could and should be completed the week before, a few days before, the day before, and the day of your family dinner, so you could spread out the work and enjoy the holiday season?
We can help make your Thanksgiving more enjoyable and less stressful!
1. Set up your free account here at Dish Dish (getting your own online cookbook set up where you can save favorite recipes to locate any time, add to a shopping list, and share easily).
2. Download our free printable Thanksgiving Dinner Planning guide – filled with recipes and a strategy to help simplify the process of getting Thanksgiving Dinner on the table.