There are several things to consider when picking out BBQ tools and accessories, especially grill tongs.
1. Many of us look for tongs that are not too difficult to squeeze – after all, who wants to work hard when grilling?  Keep in mind, however, that we also want the tongs to be strong and sturdy enough to easily handle turning and picking up larger pieces of meat from the grill, and not dropping our dinner on the ground as we transfer to a plate or bowl.
2. Some of us like tongs that have a lock feature for locking them closed or open (in case the drawer we're storing them in is a little tight).
3. I like tongs that have a hanging loop on them, for easy hanging next to the grill while I'm cooking.
4. And since I detest doing dishes, except when absolutely necessary, I always look for something that is dishwasher safe, personally.  Even more important to me, will it come out of the dishwasher looking like new rather than still caked with part of the greasy grill bits left behind? Right?!?
Mulling over these desired features, I had the privilege of trying out the Cave Tools brand Grill Tongs recently and really like the way they handle.
When initially getting them out of the box, the feel and weight of the tongs quickly gave the indication that these would be sturdy enough to handle heavy-duty grilling tasks, while also not being so heavy that they are cumbersome to handle.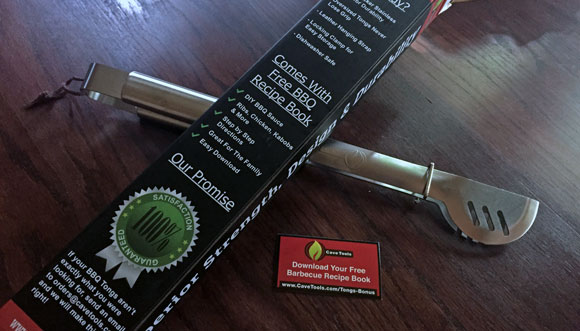 The two different styles or shapes for each tong end are a nice touch – one end has the smooth edge for easily sliding under an item if needed, and the other has teeth for getting a good grip or piercing the item, if desired.  The  design not only looks nice, but is very helpful when turning items on the grill.
And they work great when flipping over things like peach halves or vegetables on the grill.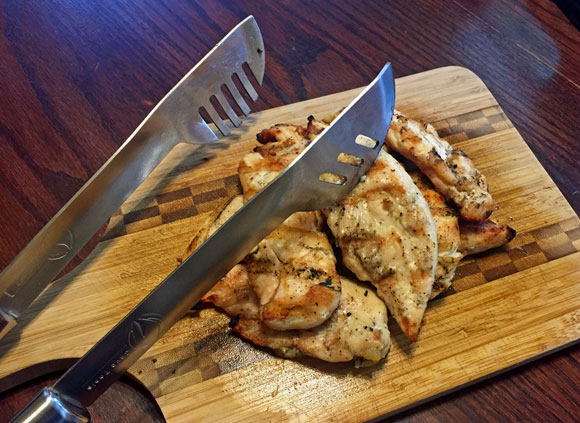 I like that the handles are long enough to keep my stubby fingers a good distance from the heat and flames of the grill while using them.  They are long enough for keeping away from the heat, while not being so long as to make them difficult to manage.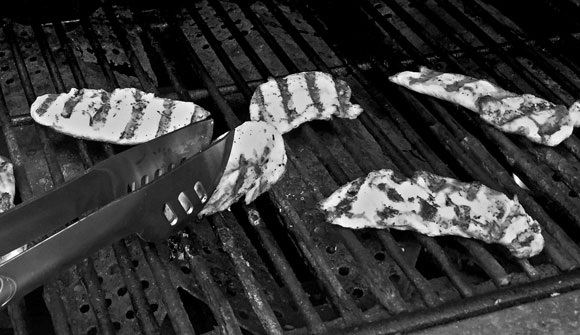 As soon as the tongs slide out of the box, there is a catchy card enclosed, giving directions for downloading a free barbecue recipe book from the Cave Tools site, as well.  It's especially a nice idea for a gift for someone who is just starting out on their grilling "career", and there were some nice ideas and tips even for those more experienced "grill masters".
I did some simple chicken and sausage on the grill, using the tongs, and they worked great, but it's obvious they have the strength to do well with larger items like steak and ribs, while also being delicate enough for handling vegetables (or fruit – like peaches).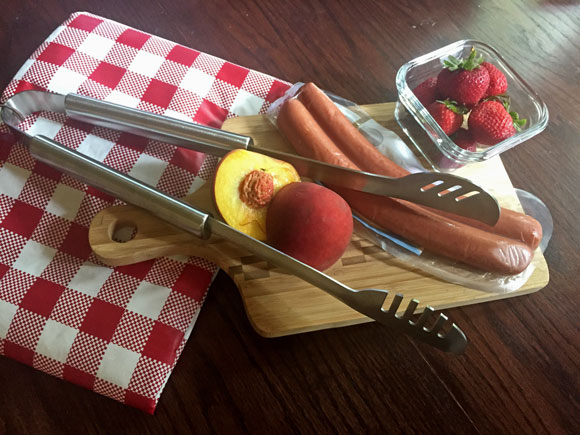 Best of all, after tossing them in the dishwasher, they came out looking brand new, not a teensy-weensy bit of grease or grilling residue left behind on them.  Yay!
Of course, after all this, I would have thought the price for these might be a little out of my acceptable range for grilling tools, but alas, it was a very reasonable price (honestly a bargain given how well they cleaned up and how strong and sturdy they are – seeming like they could last a lifetime).
Oh, and there's a 100% satisfaction guarantee, so you can return them for a full refund, even after using them for a year, if you are not satisfied with how they're holding up!  I mean, really, what other company has such confidence in their grilling products?
If you'd like to grab yours right away, we are also offering a special coupon code for 15% off your Cave Tools Grill Tongs (making them less than $10)!  Just use discount code TONGS15 when you make your purchase on the Cave Tools website.