Have you been to Italy, or always wanted to visit – the great food, the wine, the people, the countryside, and so much history?  Oh my goodness!  Wish we could pack our bags today.
Alas, a visit to Italy is not in our near future, but we are thrilled to review this Balsamic Vinegar Condiment from Modena, Italy  — aged for 5 years in wood barrels, and produced from grapes grown in the vineyards of San Polo.  While traditional balsamic vinegar is aged for 12 to 28 years, this condiment version has a light, slightly sweet taste and is terrific for everyday use.  It arrives in a beautiful box and ornate bottle and would make a wonderful gift!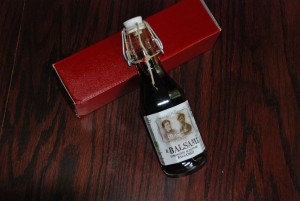 (Balsamic Vinegar was provided by Emilia Delizia, hosts of all sorts of food, wine and cooking tours throughout Italy, including an option to tour the facility where this Balsamic Vinegar is produced from Lambrusco and Trebbiano grapes!)
Around our house, we use balsamic vinegar for all sorts of dishes and appetizers and enjoyed trying out this new bottle for ourselves in Parmesan Chicken with Balsamic Vinegar Reduction – a delicious dish with braised chicken seasoned in garlic, oregano, Parmesan and olive oil, then topped off with a simple, sweet balsamic vinegar reduction with honey.
It serves well with steamed broccoli and pan-fried potatoes or sauteed spinach. Hint: mix a bit of the balsamic vinegar with a little olive oil for dipping bread with dinner, too!
First, gather some olive oil, Parmesan cheese, oregano, and minced garlic for tossing the chicken with before cooking.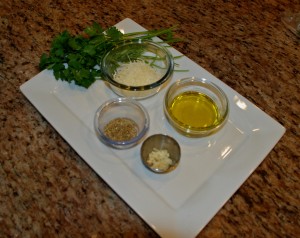 After coating the chicken, take a few minutes to lightly brown each side of the chicken in a non-stick skillet.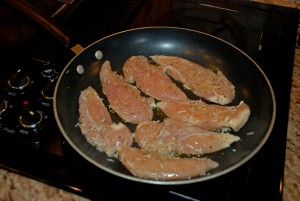 Then drop the chicken pieces into the crockpot to cook on low for a few hours (so as not to heat up the kitchen, since it is the middle of summer!) — OR to have dinner ready a little sooner, bake the chicken in the oven at 400 degrees F for 30-40 minutes (depending on size of chicken pieces and whether using boneless).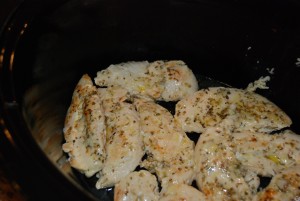 While the chicken finishes cooking, mix the balsamic vinegar with a little honey and simmer down to a nice thickened balsamic reduction.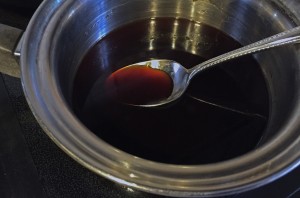 Wow!  It smells so good.  Dish it up with some steamed broccoli and skillet-fried potatoes for a filling and delicious dinner.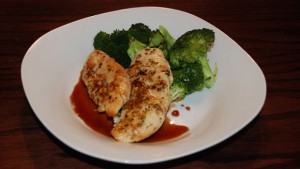 Parmesan Chicken with Sweet Balsamic Reduction (recipe link for printing / saving)
(serves 4-5)
Ingredients:
12 chicken tenderloins (or 3 pounds chicken pieces)
1/4 cup extra virgin olive oil
1/4 cup grated Parmesan cheese
2 tablespoons minced oregano
2 cloves garlic, minced
salt and pepper
1/2 cup balsamic vinegar
2 tablespoons honey
Directions:
In a large bowl, combine chicken pieces with oil, cheese, garlic and oregano.  In a non-stick skillet over medium-high heat, lightly brown the chicken pieces (about 3-4 minutes on each side).
Place chicken pieces in a crockpot on low heat and cook for 3 hours until tender and cooked through (add just a little chicken broth or water, if needed).  Or for a faster meal, place chicken pieces on a baking sheet and bake at 400 degrees F for about 35 minutes until cooked through.
Meanwhile, stir together the balsamic vinegar and honey in a small saucepan over high heat, stirring regularly, until the mixture comes to a boil.  Reduce heat to low and let simmer until the mixture has reduced and thickened (allow about 10-15 minutes for this).  Remove from heat and allow to cool slightly to further thicken, as desired.
Place chicken on serving plates and spoon balsamic vinegar reduction sauce over the top to serve.
This balsamic vinegar also would work very well in these recipes:
Balsamic Vinaigrette Salad Dressing,
Asparagus with Balsamic Tomatoes,
and other Balsamic Vinegar recipes.
What is your favorite way to use balsamic vinegar?  We love to hear what you are dishing up in your kitchen!
Remember to save all your favorite recipes right here in your own online cookbook for organizing recipes.