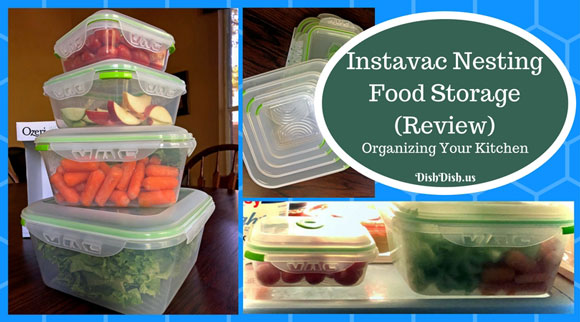 These nifty food storage containers came in the mail this week, and we were so excited to try them out and let you know how they can help you save food (and money) by not having to throw out as much wasted food since now you can easily keep it fresh until you are ready to use it.
Keep Food Fresh Longer
All of us have had that time at the end of the week, right before we head to the grocery store again, when we're cleaning out and throwing away the food items that went bad before we got around to using them.  Often times, this terrible waste is caused by lack of good storage that could have kept those strawberries or that bunch of parsley fresh a little longer.
These storage containers have a patented vacuum seal that seals in the freshness and locks air out.  The patented valve system removes excess air, reducing the chance for naturally occurring bacteria to grow, and it releases pressure to prevent food from spilling and splattering in the microwave (when cooking or reheating your food).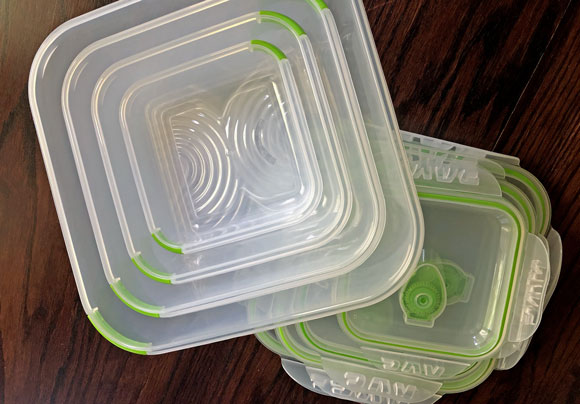 Additionally, there is a nifty wave pattern on the bottom of each container that keeps fresh fruit and vegetables elevated, so they don't sit inside any water or juices while stored, also helping them stay fresh longer than they would otherwise.
It's super easy to close and seal the containers by simply placing the lid on top, snapping down the handles on each side, and then using thumbs or forefingers to press down on the center of the lid, pushing out the air from the inside, and vacuum sealing the container.  The center of the valve pops down and whistles lightly when the seal is created (so you know it's done right)!
Enjoy Organized Storage in the Fridge, Freezer, and Pantry
Sometimes when I open the fridge, freezer or pantry, it can be overwhelming as I wonder what in the world is in the various bags or containers staring back at me from every shelf and drawer.  These fabulous containers are see-through, and stack well, so you can easily see what's inside and make good use of the items before they sit around too long and go bad.

No matter where you're using these containers, they stack on top of each other well, and they stack inside of each other easily, too, for simple space-saving storage when not in use.
I love, too, that the small dial around the valve has numbers on it (1-31), so you can set the dial to the day of the month that the items you've put in the container were first stored.  This way, you know exactly how long those green beans or that leftover lasagna has been in the fridge.  It's such a simple way of tracking, and easy to change for the next round of storage.
Safe, Durable Containers for Healthy Meals
As you can probably see from the photos, these containers are a heavy-weight thick plastic, so they feel more heavy-duty – like glass would – but are shatter-proof (can anyone say how great this is if you have children who help with the dishes?!?), while still being almost as transparent as glass.
Since they are BPA-free, you don't have to be concerned about storing food in them, whether saving cut-up food prep items for the week, snacks for the kids to grab easily after school, or leftovers for heating up later in the week.  And they are stain-resistant as well as dishwasher-safe, so cleaning up is a breeze.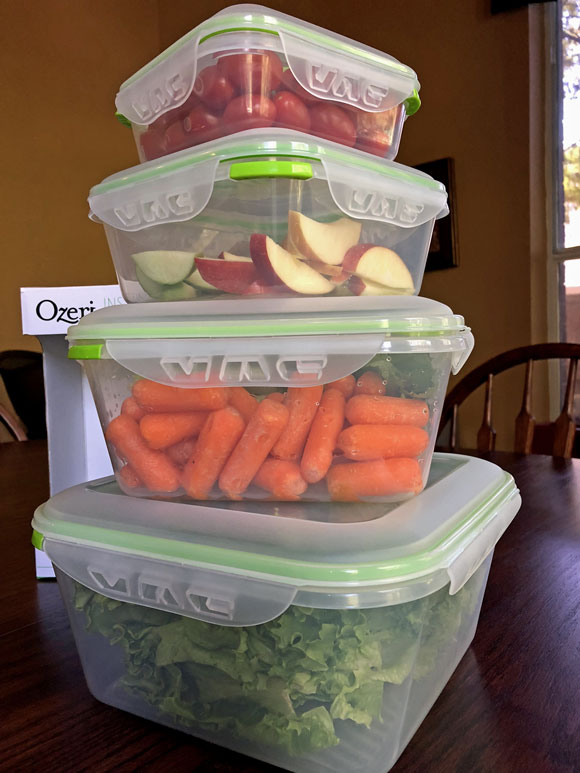 If you love making freezer meals, and then cooking or reheating those in the microwave, the special valve on top of the containers can be lifted and left open to allow excess pressure to escape while cooking in the microwave (saving us from the splattered or exploded mess that we all know can occur otherwise).
Lastly, the set comes with a complete satisfaction guarantee – so there's no way to lose.
If you'd like to order your own set, they're available today at https://www.amazon.com/dp/B00JM3VFVE (as of 10-15-17, they are on sale for half-price, too!).
Please leave us a comment below if you have other ideas for keeping food fresh longer and organizing your kitchen and fridge.  We love to hear your ideas!