Zucchini crops are being harvested in abundance, and perhaps you're looking for some new ideas for cooking up all that fresh zucchini from the garden (or farmer's market).
This versatile ingredient can be used in many amazing zucchini recipes as main dishes, side dishes, or even sweet breads!
Here are a few zucchini recipes for you and your family to try out this week; discover some new favorites with these ideas.
Beefy Stuffed Zucchini Boats are a fun and fairly simple main dish dinner recipe, a perfect recipe for the kids to help with, too.  Zucchini squashes are filled with an Italian seasoned beefy mixture, topped with a little tomato sauce, and baked to perfection.
Zucchini Patties combine shredded zucchini, onion, cheese, and baking mix with seasonings (recipe shared by a 4-H member).  Fry them up in a skillet and enjoy a delicious side dish that the kids will love, too.
Enjoy a vegetarian main dish with this Zucchini Parmigiana baked dish – sliced whole wheat bread, marinara sauce, mozzarella, and zucchini slices, baked in a lasagna style dish.  Yummy!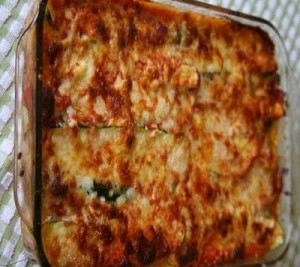 Zucchini, Black Beans and Rice make a super easy quick one-skillet meal that's healthy, filling and delicious.
Italian Style Zucchini with Tomatoes is a colorful simple side dish made with cherry tomatoes and zucchini with a little onion, topped off with some shredded Parmesan or mozzarella.
Sweet Zucchini Bread with added raisins is a terrific bread to have on hand for snacks or a light dessert.  Make extra loaves and freeze them to thaw and pull out all winter long, enjoying your summer zucchini bounty throughout the year.
Martian Cookies (so named because of the green flecks from the zucchini) are also filled with oats, walnuts, chocolate chips, and butterscotch chips for a real dessert treat!

So, what are your favorite zucchini recipes?  Have you tried some of these recipes and enjoyed them?  Please leave us your thoughts in the comments below and tell us about your favorite ways to use zucchini fresh from the garden.
Remember you can add favorite recipes to your free online cookbook account, so you can find them when you want to make them, add the ingredients to your grocery shopping list, and share them easily with friends and family!