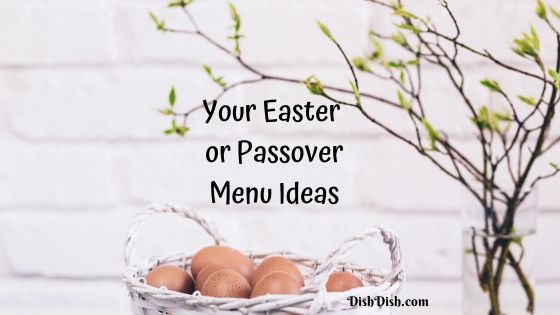 Are you looking for last minute menu ideas for Easter or Passover for this weekend?
(Above image background by freestocks on Unsplash.)
Let's take a quick look at some traditional menu items for each of these meals and share some recipes with you.  The highlighted menu items are linked to that recipe.
A menu for Easter traditionally includes:
1. Baked Ham or roasted Rack of Lamb,
2. Roasted Asparagus,
3. Scalloped Potatoes,
4. A Spring Salad,
5. A pan of fresh Dinner Rolls
6. And perhaps some Lemon Meringue Pie or Cheesecake for dessert.
While you might not know what to expect for a Passover menu, a traditional one would most likely look similar to this:
1. Start with some Matzoh Ball Soup,
2. Followed by a Brisket,
3. Served with some roasted asparagus (I know, I know … it's a spring thing!),
4. A Potato Gratin,
5. Some other Roasted Vegetables,
6. And finally the meal is finished off with a Flourless Chocolate Cake.
Of course, our family has to be a little different at just about everything.  So we are serving up some Baby Back Ribs for Sunday dinner this week.  This very basic recipe will do right for you every time without too much effort at all – just allow enough time for the slow roasting in the oven.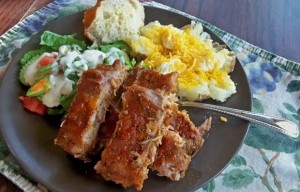 Slow Roasted Baby Back Ribs  (serves 6; prep time: 30 min; cook time: 3 hours)
Gather together the following ingredients:
•  Three (3) racks baby back ribs
•  A bottle of BBQ sauce of your choice
•  For the Rib Rub:
a. 1/2 cup brown sugar
b. 1 tablespoon smoked paprika
c. 1/2 teaspoon cayenne pepper
d. salt and pepper
Preheat your oven to 225 degrees Fahrenheit.  In a small bowl, combine all of the Rib Rub ingredients.
Prepare the ribs by removing skin from the underside of ribs (by slicing skin and pulling it away).  Sprinkle the rub over each side of ribs and rub into the meat.  Wrap each rack in Saran Wrap tightly and place on baking sheet to cook in oven for 3 hours.
Carefully remove plastic wrap from ribs; place each rack on a sheet of aluminum foil and brush ribs with BBQ sauce while preheating grill to medium-high heat.  Close foil around ribs and place on grill, allowing them to heat for about 10 minutes before unwrapping and serving.
Whatever you end up dishing for friends and family this weekend, we'd love for you to leave us a comment below and share with us about your festivities.  Share a picture of your dish on our Facebook page!
Remember you can always organize recipes and share them with family and friends right here at Dish Dish with your own online cookbook account.  Which recipes will you add this week?
Here are a couple of other recipe ideas for this weekend's activities: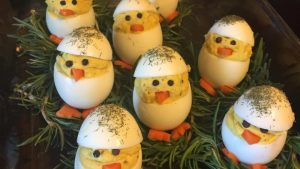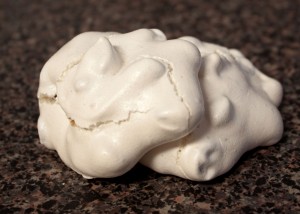 Easter Story Cookies (tell the Easter story in the kitchen – great for kids the night before)