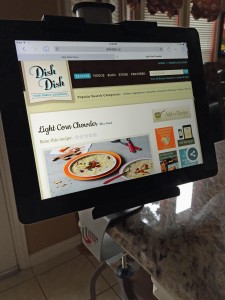 Do you find yourself in the kitchen, trying to use your tablet to view recipes, search for information, listen to music or watch videos?  Do you worry about keeping that tablet stable, protected from spills or slips, while you're using it?
I recently had the opportunity to try out the Upper Desk table mount tablet holder (they also make a cabinet mount tablet holder), which worked very well for keeping the tablet still and in good position while using it in the kitchen (my counter tops were a little narrow for attaching the holder quite right, but it attached well to our bar area counter as well as to the table and desk).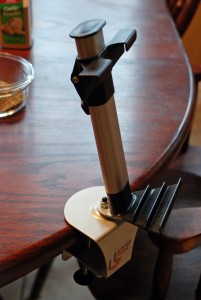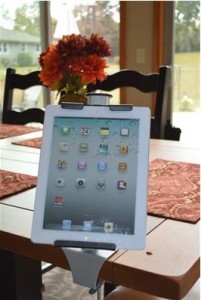 It swivels around, too, so I could move it to avoid glare at a certain angle or to see the screen better.  Viewing my cookbook of recipes here at Dish Dish was a piece of cake!
The Upper Desk tablet holder was wonderful for stabilizing my tablet while taking this video of mixing up some Italian seasoning.  Adjusting the position of the tablet was simple, and the stabilization worked great.  I liked that it was easy to move the holder from one place to another, since it can be attached or removed very quickly.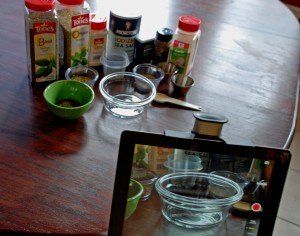 The mount would also be quite useful when using the tablet outdoors, as a side unit at a desk or work area, or even in the garage while working on a project.  It would make it easy to view videos, play music, Skype with friends, take pictures or videos, all while not having to worry about the tablet moving, slipping or being damaged.
This tablet holder is perfect for kitchen, dining room, work area, project room, garage and more …  It was even a finalist for the IHA 2014 Innovation Award!
If you'd like to win one for yourself (or a friend), enter our giveaway with the form below.  The giveaway will run through January 30.  The winner will be notified by email and will have 48 hours to respond and provide mailing address or another winner will be selected.
Disclaimer: I did receive this product at no cost to facilitate the review, but no other compensation was received.  This giveaway is in no way associated with social media platforms including Pinterest, Twitter, and Facebook.