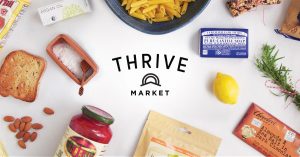 As we look towards starting another year, many of us turn our attention towards making improvements in our lives for the days ahead.
Quite often, one of those improvements we all would like is being more healthy, both for ourselves and for our families.
Studies show families that eat together, cook together, sit down to dinner together around the table regularly are generally healthier – physically and emotionally.
Sometimes it feels like eating healthy (especially if dealing with particular health concerns that may require eating a special diet – paleo, vegan, gluten-free, etc.) can be expensive.
For instance, trying to stick with organic, non-GMO, healthy ingredients for your kitchen and pantry may seem like an expensive, nearly futile task at times.
We have found a popular and very handy solution, helping families around the country eat healthy and enjoy healthy ingredients at near wholesale prices! (I know – hard to believe a company would do that, right?)
Thrive Market is storming the country with their inexpensive, online health food store perfect for families like ours.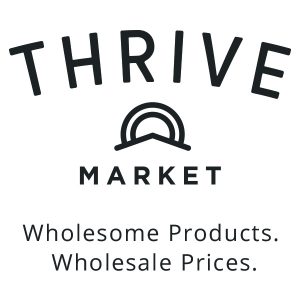 Thrive offers an easy online market where we can purchase thousands of items from over 400 health-conscious brands at nearly wholesale prices without needing to buy in bulk.
They make it so simple to use with features like:
Free Shipping on orders over $49
Shipping in 2 days or less for most orders
Cutting out the middle man to save members 25-50% off retail
Offering products for kitchen, home, bath, baby, and more
Apple and Google Play apps
One thing I really love about the Thrive Market company is that for every membership purchased, they donate a membership to a low-income family to provide that family with easy access to low-cost healthy, organic ingredients for their family as well.
What's not to love about that!?  You get to save money and bless another family with the opportunity to improve their family's health and wellness, too.
While the annual membership is $60 (only $5/month), with 25-50% savings off retail on brands like Weleda, Bob's Red Mill, Annie's Homegrown, Garden of Life, Jason Naturals and hundreds more, members usually recoup their membership fee in a very short time with their first few orders.
I love that they offer not only kitchen and cooking ingredients, but things like bath and beauty products, home goods, supplements, and healthy snacks.
Thrive makes it easy to check out their service by offering a free 30-day trial, and with this special offer, you can get 20% off your first 3 orders (on top of their already low prices!).
Start shopping today for natural, non-toxic, organic, and non-GMO products at wholesale prices, and help your family enjoy healthy meals and a healthy start to the new year without breaking your budget.