How to Turn Your Fridge into a Nutritional Paradise
When you're hungry, there's nothing more satisfying than opening the fridge and finding it packed full of nutritious and delicious goodies. Unfortunately, many of us fall victim to the horrors of the sparsely stocked, disorganized ice box filled with leftovers of questionable origin and time.
Keeping a properly stocked fridge requires good shopping habits and proper management of leftovers and condiments. For some of us, that process comes naturally, but quite a few of us still need a little bit of extra help.
Here are a few ways you can help yourself develop these habits so that healthy, nutritious food will always be within your reach.


Make Shopping Easier
The days of carrying a handwritten and crumpled shopping list are gone. Thanks to modern apps such as Buy Me a Pie! and Grocery iQ, it's much easier to create and share lists with family members. This helps to share the workload and keep all your lists safe in one place.
For the thrifty shopper, consider using one of the many rebate apps. I'm partial to Ibotta, but the process sometimes can be trying. Otherwise, you may want to utilize FarmStand or other equivalent apps to find where and when there are local farmer's markets.
Shopping for local produce and goods ensures fresher goods and often affords you better prices as well. Plus, it's better for the environment since farms usually don't sell packaged and processed foods you find in grocery stores.
Find New and Exciting Recipes
Buying an array of tasty goods is definitely the first part of creating a collage of culinary curiosity, but actually preparing the food is an entirely separate matter. For that, you really want to make good use of the many recipes found online.
DishDish's Online Cookbook app is a great way to store recipes for later use. We strongly recommend not relying on bookmarks for favorite recipes, as sometimes sites remove recipes or lose their hosting.
In case you're in an area without internet reception (we've all had the dreaded "dead zone" experience at super markets), consider jotting down some notes with your device's default app so you can store it online later. For instance, Apple's Notes app is a good temporary solution until you regain internet capabilities.
Manage Your Leftovers
So you've stocked your fridge, you've made a great meal and now you're left with the final inevitable result—the leftovers. As something both to rejoice over and cringe at, leftovers can save you time or become a very disgusting cleanup if improperly managed.
We store our leftovers in glass containers (Pyrex or similar) so that there's never any mystery about what's inside. But the real secret to management, from my perspective, is actually much simpler. All it takes is a pen/marker and a pad of sticky notes.
To keep food from being lost to the annals of time and forgetfulness, I label all leftover containers with a date. This is a straightforward way to make it clear when something was put in the fridge and whether or not it's still safe to eat. You can even go the extra mile and add a "use by" date just like at the supermarket to make sure food either gets eaten or tossed before it goes bad.
By doing this, you avoid turning the food in your fridge into someone's high school biology project. It also keeps the fridge smelling nicer and reduces the likelihood of mold growing on your fresh foods.


Cleanup Time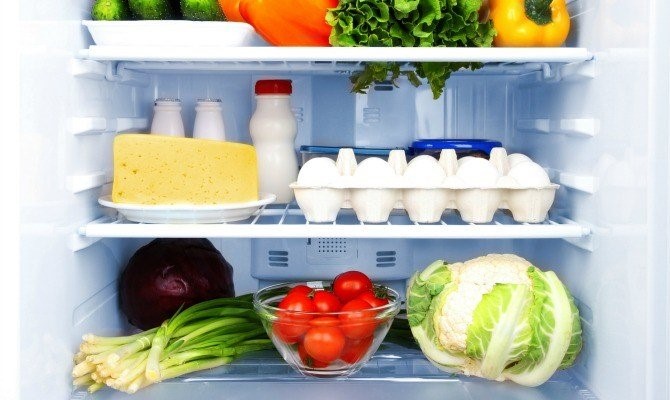 If there's one thing I see more than neglected leftovers, it's a fridge that hasn't been cleaned in ages. It may be because we're constantly adding new things or because it's just cold inside, but we always seem to forget to actually scrub down the inside of our fridges.
Well, don't forget and make sure to dispose of rotten food and scrub surfaces down with a cleaner of your choice (vinegar works well as it kills mold and isn't toxic). If you're concerned about odors, you can place a box of baking soda in the fridge to help maintain a fresh scent. Together, cleaning and prevention will keep your foods fresher longer.
Will you take the steps necessary to create the kind of fridge everyone envies? Share your thoughts in the comments.
About the Author: Cassie is a blogger that enjoys sharing her passion for health and technology.  With the internet on her side, she's on a dedicated mission to spread the good words of nutrition and wellness. Find some of her work at eHealthInformer.com or on Twitter.