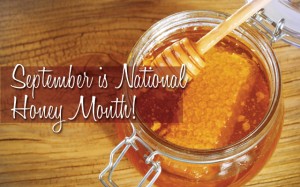 Come September! It brings the simmering summer climate to an end with the promise of wonderfully pleasant days ahead. September is also 'National Honey Month'. Here, at Dish Dish, we put together a list of delicious honey recipes to help you celebrate.
● Honey Mustard Chicken Sandwich
● Honey Butter Grilled Chicken
● Honey Whole Wheat Bread
● Barbecued Honey Steak
Or, how about Honey Fruit Salad:
● 2 to 3 ripe cantaloupe
● 2 to 3 ripe nectarines
● 2 chopped basil leaves
● 2 tablespoons of honey
Mix these easy ingredients together for a sweet September Treat.
Digitize, Save, and Share Your Favorite "Honey Recipes"
If you have your own favorite honey recipes, we'd love for you to share them with our online community of food lovers. Sign up today to digitize, save and share your favorite honey recipes &  have a "honeylicious" September!