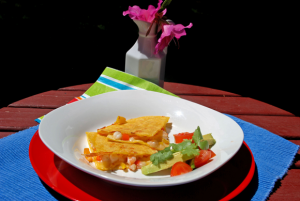 We are excited to share some healthy recipes for Cinco de Mayo!  We always enjoy eating Mexican food, and we like to eat healthy, too.  So, we whipped up these shrimp quesadillas with a few simple ingredients that you can have ready for dinner or lunch in no time.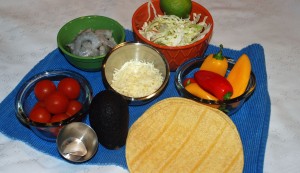 Serve up these shrimp quesadillas as a light dinner or lunch; they also make a great appetizer dish for starting off the meal in style.
First, chop up some red and yellow mini sweet peppers.  These are easy to find in stores or even at the local farmers market sometimes.  We sautéed these in a non-stick skillet for a couple of minutes to lightly soften and heat them.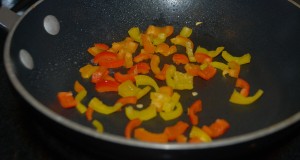 Next we melted some butter in a non-stick skillet over medium-high heat and added some chopped garlic, cooking it just 'til fragrant and starting to brown.  Then we tossed in the shrimp, sprinkled with some salt and pepper, and let it get pink on one side (about 2-3 minutes), flipped it, and did the same for the other side, just a couple of minutes (not too long or it will get tough). After removing the shrimp from the pan, we chopped it and spritzed with a little juice from a lime.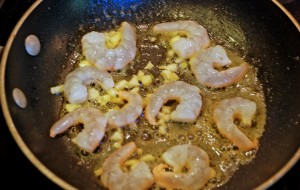 You will want to heat up the corn tortillas slightly so they will be pliable; either place them on a plate in the microwave covered with a damp paper towel and microwave for 20-30 seconds (depending on number of tortillas – maybe a little longer) or warm them up on the skillet or griddle one at a time and stack together to keep warm in a tortilla warmer or on a plate covered with a towel.
Heat your griddle or non-stick skillet to medium-high heat.  Along the middle of each tortilla (we're going to fold it in half), layer a little of the chopped shrimp, some of the sweet peppers, and some shredded Monterrey Jack cheese.  Set onto skillet or griddle and gently fold in half, pressing lightly with a spatula to keep it in place while it heats. After a couple of minutes, carefully slide the spatula under the open side of the tortilla and gently flip over towards closed side of tortilla (and you might have to tuck a few ingredients back in to the tortilla after flipping). Allow to heat for 2-3 more minutes until cheese is melted and tortilla is slightly browned.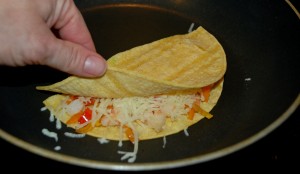 Remove and serve, garnished with fresh cilantro, and some quartered cherry tomatoes, sliced avocado, salsa, and any other desired sides.
We whipped up a little spicy sour cream to serve with these, by combining 1/2 cup of light sour cream with 1 teaspoon of chili powder and 1 teaspoon of cumin.  Yum!  It was terrific.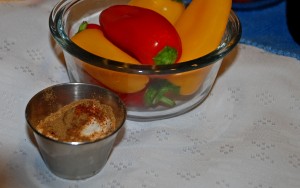 Here's a list of the recipe ingredients; click on the recipe title for a printable version of the recipe with ingredients and instructions.
2 corn tortillas
10 medium size shrimp (uncooked, deveined, tail removed)
2 small red and yellow sweet peppers
butter / olive oil / oil spray
1 clove garlic, minced
1 lime, for juice
1/4 cup shredded Monterrey Jack cheese
garnish – fresh cilantro
serve with – diced tomatoes, sliced avocado, spicy sour cream, and salsa
Here are a few other healthy Cinco de Mayo recipes:
What are your favorite Mexican recipes for Cinco de Mayo or any weeknight dinner with the family?  You can save all your favorite recipes together in one place here at Dish Dish.  We'd love to hear about your favorites – either leave us a comment below or come see us on Facebook and let us know.  We look forward to hearing from you!