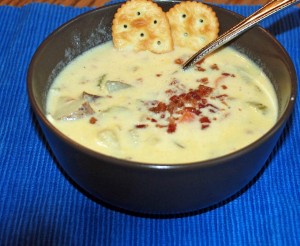 Healthy Potato Soup with Bacon Toppings
Soups are side dishes that can certainly awaken your appetite. They are sumptuous delicacies that can perfectly blend cold weather and warm conversations. Savoring soup is always a pleasurable experience. You can consider it your comfort food because the delight it brings to your tummy is something else.
There are multiple variants of soups that you can prepare. Despite the wide spectrum that soups cover, their general preparation is pretty simple. Even an inexperienced person in the kitchen can create a rich and warm pot of soup. That's how simple this recipe is.
Of course, people are new to this food would start looking at most common variants. You can say that corn soups and potato soups are on the top of the list. Between those two, many are quite fascinated by the taste and nutritional value of potato soups. Regardless where you look, potato soups are healthy and fulfilling.
If you want to learn a basic version of potato soup, then I will be your guide. I am going to show you how to create this recipe with minimal ingredients. Let's start now!
Healthy Potato Soup Recipe
I personally love potato soups because they are sure crowd-pleasers. They can literally attract your entire family or friends to gather in your kitchen table just to experience the taste. Fortunately, such magic is quite achievable. But before that, you need to gather these following ingredients first:
Ingredients:
Bacon (3 slices)
Onion (1 cup; chopped)
Baking potatoes (3 pounds; peeled and sliced)
Water (1/2 cup)
Chicken broth (2 pieces; fat-free)
Salt (1/2 teaspoon)
Black pepper (1/2 teaspoon)
Low-fat milk (2 cups)
Cheddar cheese (4 ounces; shredded)
Sour cream (1/2 cup)
Chives (4 teaspoons; chopped)
Cooking spray

Instructions:
1. Put a skillet on the stove and heat it over medium-heat. Cook the bacon slices in the skillet until they turn crispy. Once done, remove bacon strips from the skillet and crumble them into small pieces.
2. Do not throw out the drippings in the pan yet. In the same pan, saute the onion for around 3 minutes or until the onions become tender.
3. Use a slow cooker and place all the potato slices in there along with the sauteed onion. Make sure that the potato slices have been spritzed with cooking spray. Add a half cup of water, pepper, chicken broth, and salt. Stir them for a couple of minutes before covering the slow cooker. The cooking should take 8 hours or until such time as the potatoes have softened.
4. After the said period, mash the mixture. Add the milk and cheese afterward. You should increase the heat of the slow cooker and continue to cook the mixture for another 20 minutes.
5. At this point, the mixture is already a bonafide potato soup. Serve it hot in small bowls. Sprinkle the shredded cheese and add a dollop of sour cream for toppings. You should also top with the chives and crumbled bacon for more texture and flavor. The soup should fulfill everyone's cravings!
6. Keep running the slow cooker, remembering that the full flavor of any soup is seen when it is hot and steaming!
Conclusion
This is just the tip of the iceberg. If you dig further, you will found out that there are a lot of ways to create healthy potato soups. Once you can learn the basics of making this treat, you will be able to explore to other similar recipes. Of course, I recommend that you should do so.
By learning more and more recipes, your meal selection will widen. Therefore, you can prepare different dishes and cuisines for every occasion and gathering that you have! Don't worry. Cooking is a fun thing to do!
From the Author:
Hello! Rose here! I am a full-fledged mother and a kitchen warrior at the same time. I created the GimmeTasty.com blog so that I can share my cooking knowledge with interested individuals out there. If you want to catch up with my culinary adventures, just visit and subscribe to my site! I look forward to seeing you there!