Today we are excited to introduce a dairy-free, gluten-free recipe from our friend, Leann Forst, over at Groovy Beets.  Her site is full of healthy eating ideas, natural remedies, and ideas for incorporating a healthy lifestyle for your family; learn how everyday foods may be contributing to your health problems.  It's easy to sign up for her newsletter, too.  Thank you, Leann, for sharing with us!
Do you or someone you know suffer from dairy or gluten allergies?  Dairy and gluten cause health issues for many people.  If you are trying to cut out dairy and gluten, then here is a sweet treat you are going to love.
Dairy-Free, Gluten-Free Thumbprint Cookies (Printable version)
Cooking Time: 15 minutes
Yields: 10
This recipe is:
Gluten-Free
Vegetarian
Dairy-Free
Vegan
Ingredients:
1 cup rolled oats
1 cup almonds
1 cup spelt flour
1/2 cup applesauce
1/4 cup maple syrup
1/4 cup brown rice syrup
Fruit-sweetened jam of your choice
Directions:
1. Preheat oven to 350 degrees.
2. Combine oats and almonds in a blender or food processor and blend until they have the consistency of flour.
3. Add to a large bowl with spelt flour.
4. In a small bowl mix together the oil, maple and brown rice syrup.
5. Combine wet and dry ingredients and mix well.
6. Make 1-inch balls with your hands and press flat onto a cookie sheet.
7. Make an indentation with your thumb into the center of each cookie.
8. Fill each cookie with a teaspoon of jam.
9. Bake at 350 for 15 minutes.
10. Cool and enjoy!
Note:  Make these cookies without the jam and use as a pie crust, or bake and crumble as a topping for frozen desserts
Enjoy and visit www.groovybeets.com for simple ingredients to a healthier family including health tips, guides, recipes, educational videos and natural remedies.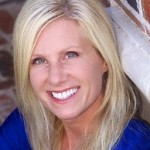 Leann Forst, MBA, CHHP, AADP
Board Certified Holistic Health Practitioner
www.groovybeets.com
*Recipe adapted from Institute of Integrative Nutrition