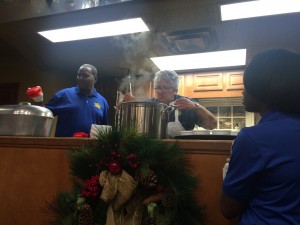 I recently had a wonderful time attending a cooking class at the New Orleans Cooking School, listening to the rich history of the food traditions of the area, while seeing how to make jambalaya, gumbo, and pralines with New Orleans flair.
Besides the fact that jambalaya and gumbo are such delicious, enjoyable, comfort food dishes, they are also perfect for feeding a crowd; not that much more trouble to make enough for 15 or 20 than for five or six people.
So, today, let's take a look at the Chicken and Sausage Gumbo recipe, and maybe you can give this a try when having friends over for dinner or for your next football or sports watching party.
Chicken and Sausage Gumbo (serves 15)
1 cup oil
1 cup flour
1 chicken, cooked, cut up, de-boned
1-1/2 pounds Andouille sausage, diced
4 cups chopped onions
2 cups chopped celery
2 cups chopped green pepper
1 tablespoon chopped garlic
2 bay leaves
8 cups chicken stock or broth
Cajun seasoning (such as Joe's Stuff, Emeril's Essence, etc)
2 cups chopped green onions
cooked rice, for serving with
file powder, as needed, for serving
1. In a large pan over medium heat, cook 2 cup of onions, 1 cup of celery, and 1 cup of green pepper with the sausage and chicken in a little oil 'til seasoned and lightly brown. Remove from heat.
2. In a separate pot over medium heat, make a roux by combining the 1 cup of oil with 1 cup of flour and cooking, stirring constantly (very important!), until color resembles that of copper or a penny (about 5-10 minutes). Remove from heat.
3. Add remaining 2 cups of onions, 1 cup celery, and 1 cup green pepper as well as the garlic to pan with the chicken and sausage mixture; stir well until combined. Pour hot roux over all of this and stir over medium heat for 1-2 minutes.
4. Gradually stir in liquid and bring to a boil; add bay leaves. Season with Cajun seasoning (lots of it!). Reduce heat to simmer and cook for an hour or more, stirring occasionally. Approximately 10 minutes before serving, add green onions; remove bay leaves.
5. Serve gumbo over rice or without rice, accompanied by French bread.  Serve with file powder, and allow guests to add powder to gumbo as needed (just a very little at a time) and stir to thicken slightly.
It was so much fun, attending the cooking class, enjoying the group, hearing history of the food and culture, and finally eating some really great food!  No matter your cooking skill, give a thought to checking out a cooking class in your area this year – take a friend and enjoy a great time; you might learn something new, and you'll surely have a good meal.
In the Dallas area, here are a few cooking class options to consider:  Central Market Cooking School, Sur la Table cooking classes, and Whole Foods Market cooking classes.  Be sure to check out cooking classes by Chef Tre Wilcox at his Cooking Concepts facility in Plano – classes for couples, adults, children, offering either hands-on or demonstration classes; he even offers private and in-home services, as well!
Have you enjoyed local cooking classes or have a favorite dish to prepare for a crowd?  We'd love to hear your comments below.
And remember you can keep all your favorite recipes, wherever you've gathered them from, in your own online cookbook account here at Dish Dish!