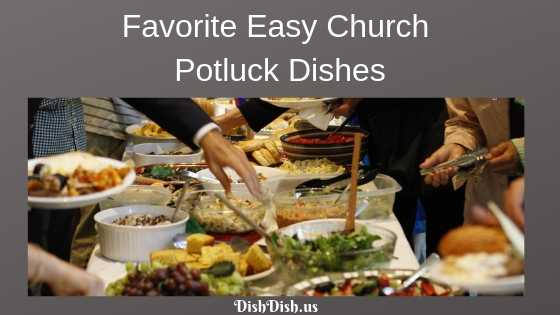 Growing up in the south, church potlucks were a part of our regular routine. It didn't even have to be a holiday or special occasion (which, of course, pretty much required a good potluck dinner or "dinner on the grounds").
Potluck dinners were so much fun – lots of time to visit, catch up and share with people, getting to know each other better and enjoying community. Sometimes there would be games and music, too. And, of course, there was always plenty of desserts!
In case you haven't been to a potluck dinner before (or haven't taken a dish to one) and aren't sure where to start, these favorite (mostly easy) dishes and recipes are the perfect place to start.
And at the end, we share a few hacks for easily transporting food for your potluck dinner.
Broccoli Grape Pasta Salad is a tremendous dish (plan to make-ahead the night before or earlier in the day since it needs to chill for 3 hours before serving) for a potluck.
It's colorful and full of a wide variety of flavor with crumbled bacon, pecans, and a creamy red-wine dressing.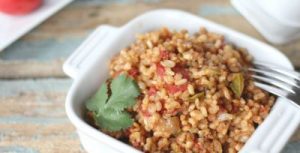 Use the crockpot to dish up this delicious Mexican (or Spanish) Rice for a crowd (image by Practical Stewardship).
With only a few ingredients — some onion, peppers and tomatoes with broth, seasoning, and rice — you have an easy filling side dish.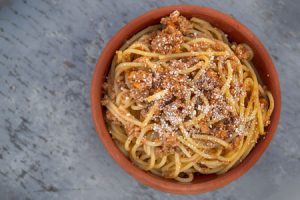 Baked Spaghetti is a wonderful dish for a potluck; this version is layered with cheesy goodness for a taste similar to lasagna (with a lot less work).
(Photo by Dana Tentis from Pexels)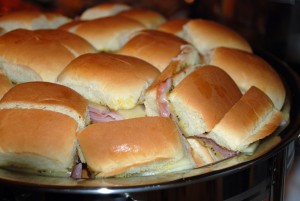 For these Mini Baked Ham Sandwiches — use Hawaiian rolls or packaged dinner rolls, cut open, seasoned with mustard
and Worcestershire sauce, layered with ham and Swiss cheese, baked to perfection. So yummy!
Besides being beautifully colorful, this Mexican Layered Salad is also
easy to put together and easy to transport, as well as perfect for a crowd.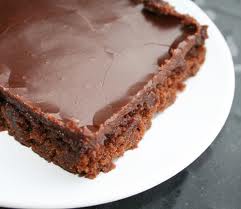 For dessert, a Chocolate Sheet Cake baked in a jelly-roll pan (feeds a decent crowd)
and is topped while still warm with drizzly chocolate icing. It's always a hit!
Quick Tips and Hacks for Transporting Dishes to and From a Potluck Dinner:
1. Place your crockpot into a laundry basket lined with towels to easily transport without making a mess.
2. When transporting dishes in foil pans, place same size foil pan on top of the one carrying your food, and clip them together with binder clips to secure.
3. Bring a frozen ice pack (or two) wrapped in towels and tuck them under your dish to keep it cold.
4. Use an insulated carrier, cooler or crockpot to keep food warm (or use heated bricks or ceramic tiles wrapped in towels)
Do you have fond memories of potluck dinners? What are your favorite potluck dishes (to eat or bring)? We look forward to hearing from you in the comments below.
And if your church or community group would like to collect recipes to share online, we'd love to help with your digital cookbook project so you can share recipes any time, any place.