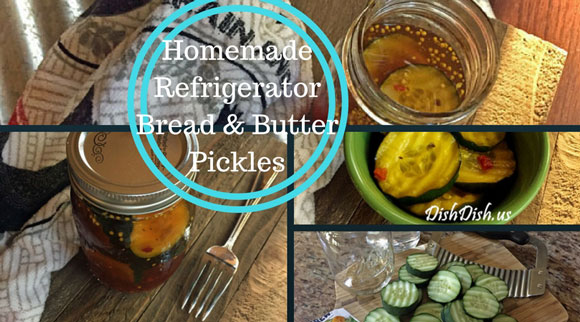 I've always been inspired by people who can their own produce.  While I haven't had the close-up experience of watching someone do that in person, my little bit of exposure to the process had left me feeling a bit overwhelmed by all that work and "just right" temperatures, heating and precise parts of the process.  A bit ashamedly I admit, I like for things to be simple.
In light of that, I haven't attempted making my own pickles, either.  (Truthfully, the few Mason jars I owned were more likely to be used for decoration!)
Then recently a friend gave me a package of HomeBrew Bread and Butter Quick Pickle Mix.  It only required adding cucumbers, vinegar, sugar and water, cooking a little bit, and refrigerating for 24 hours.  Weeelll (in a southern drawl), that, my friend, I can do.  (And I liked that their mix was Vegan, Non-GMO, Gluten-free, and had no MSG).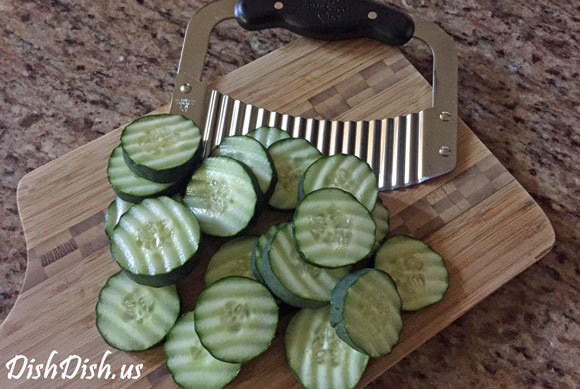 So, I pulled out my handy-dandy Pampered Chef crinkle cutter tool (yes, I love to use that to make my vegetables look all dressy and fun) and set to work slicing up some fresh cucumbers.
Per the package direction, I also tossed some water, vinegar, and sugar into a saucepan with the pickle mix seasoning, heating it thoroughly before setting aside.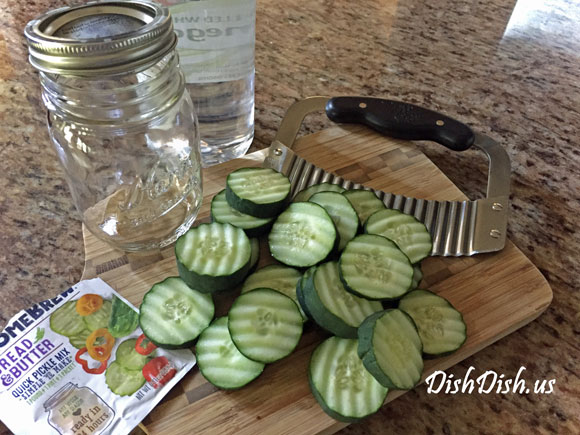 I was so relieved not to be required to heat the jars or rings or lids to a certain temperature and set everything "just right". Nope – I simply grabbed the pint mason jar I had on hand, placed the sliced cucumbers inside and poured the hot liquid over them. After placing the lid on top, I popped them in the fridge overnight.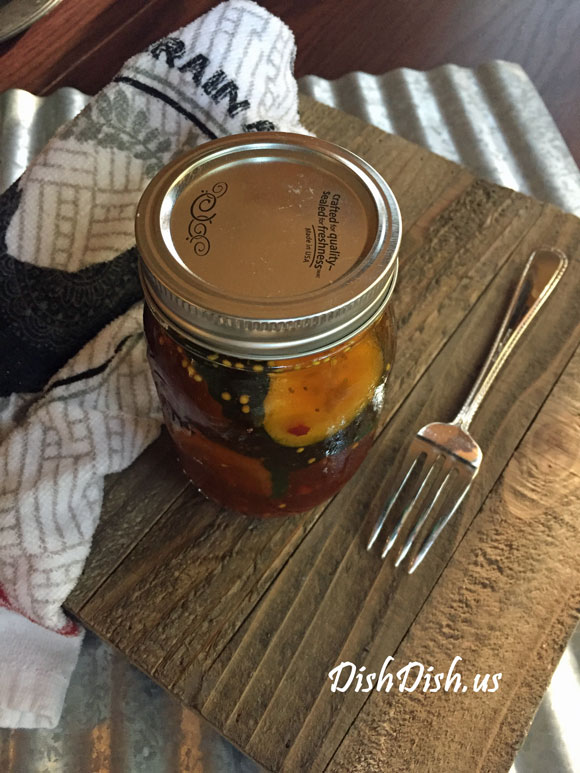 Whew! Even for me, that wasn't too much work.
Now, to see how they tasted – since I like for my pickles to taste "just right" – not too sweet and not too sour. Voila! The next day, when I gently unscrewed the lid, and pulled out the top pickled cucumber slice, it was delicious! Just the perfect blend of seasoning, and I was so excited to have fresh homemade pickles with this little effort.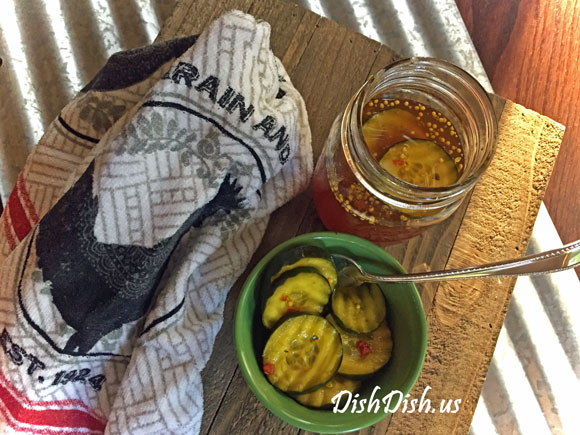 Of course, if you prefer to make yours from scratch, I noticed the BrownEyed Baker has a simple recipe for them that looks terrific (I haven't tried it yet).
To recap, the simple recipe is as follows:
1 package HomeBrew (or your favorite brand) Quick Pickle Mix
2 cups of cucumbers (or your favorite produce), sliced into disks
3/4 cup sugar
3/4 cup white vinegar
1/4 cup water
1 pint Mason jar with seal and lid
Clean and slice cucumber (or other vegetables such as mini bell peppers, onions, etc) and pack into pint glass jar.  In a small saucepan, combine packet with sugar, vinegar and water; bring to a boil and quickly remove from heat.  Pour the liquid into the pint jar over cucumbers; seal tightly and refrigerate for 24 hours.  Enjoy! (Best when eaten within a week or so of opening up the jar).
I'm looking forward to many more fresh made pickles in the days ahead.  I'll have to try some refrigerator dill pickles next since these Bread and Butter ones turned out so well!
How about you?  Have you made refrigerator pickles or do you have a huge garden and enjoy canning enough to last for the year at one time?  I'd love to hear about your pickling adventures and any tips or suggestions you have for us as well.