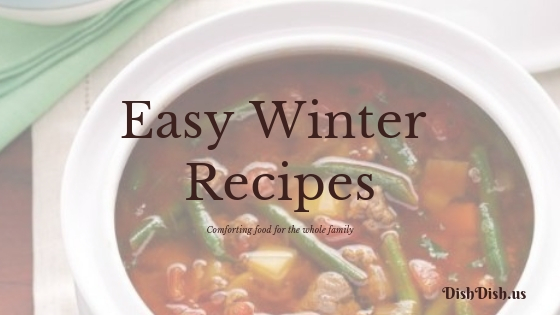 There's something so comforting about a home-cooked meal especially in the winter – you know, those days when you just want to bundle up, stay indoors (or come in after being outdoors) and warm up with comfort food in front of a cozy fireplace?
Sometimes if the winter drags on, though, it can be difficult to find the inspiration to get another meal on the table for everyone.
So we are jumping in with some of our favorite easy winter recipe ideas for your dinner table this week.
This hearty soup is an easy crockpot or slow cooker meal with fresh vegetables and ground beef or turkey.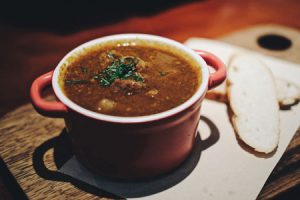 1 pound lean ground beef or turkey
1 large onion, chopped
2 cups beef broth
14 oz. can diced tomatoes, undrained
1-1/2 cups water
1/2 cup each of diced carrots, diced celery, and frozen green beans
1 cup diced potatoes
1 tsp. dried parsley flakes
1/2 teaspoon each dried basil, dried thyme
salt and pepper to taste
Cook beef (or turkey) with onion in a skillet over medium heat until meat is no longer pink; drain. Add all ingredients with cooked ground meat into crock pot or slow cooker, and cook on High for 4 hours or Low for 8 hours until cooked through.
I love the creamy texture of this dish; if you don't want to cube the chicken before cooking (I don't like to do that part), then just let it cook and pull it out before serving so you can chop it up a bit before putting back in the stew. Toss all the ingredients in the slow cooker for the day and serve over split biscuits for a hearty, comforting meal at the end of the day.
2 skinless, boneless chicken breast halves, cubed (or pull apart after cooking)
5 medium red potatoes, quartered or diced
8 oz. baby carrots, sliced or diced if desired
1 cup chopped celery
1 can condensed cream of chicken soup
3 cubes chicken bouillon
1/2 teaspoon each garlic salt, celery salt
pepper to taste
8 oz. frozen mixed vegetables
Combine all ingredients in slow cooker, and cook on High for 5-6 hours. Serve over freshly baked biscuits for that pot pie flavor.
I like that this dish incorporates the flavors of beef stroganoff without requiring the long cook time generally needed to tenderize cuts of beef for a traditional stroganoff dish. This tasty casserole is made with ground beef, noodles and mushrooms in a creamy beef sauce and some mozzarella cheese thrown in for a cheesy twist.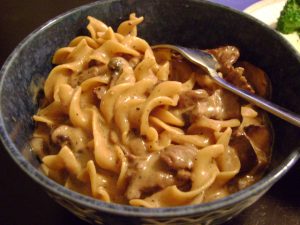 1 pound wide egg noodles
1 cup chopped onion and 1 clove garlic (minced)
1/2 tsp. dry thyme
8 oz. button mushrooms, sliced
1 pound lean ground beef
salt and pepper to taste
1/2 tsp. Italian seasoning
1 cup beef broth
2 dashes Worcestershire sauce
8 oz. sour cream
2 cups shredded mozzarella cheese
Preheat oven to 350 degrees F; spray baking dish with cooking spray. Cook noodles according to package directions. In a skillet over medium heat, cook oil, onions, garlic and thyme for about 2 minutes; add mushrooms and cook for 5 minutes, then add beef and cook until it is no longer pink. Season with salt, pepper and Italian seasoning.
Add broth and Worcestershire sauce and stir for 2 minutes. Remove from heat, stir in sour cream, noodles, and half of mozzarella. Pour into prepared baking dish and sprinkle with remaining cheese. Cover with foil and bake for 25 minutes; remove foil and bake 10 minutes more until lightly browned.
What comforting food dishes do you and your family enjoy especially in the winter time? Do you have some terrific ideas or tips to share? We love hearing your feedback and thoughts in the comments below. Leave us a note!
Other recipes you might enjoy:
 10 Fabulous Soups You Will Fall in Love With
5 Easy Dinner Ideas for Your Busy Day