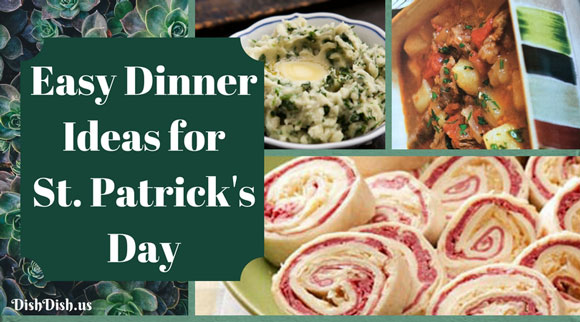 When you look about, do you see leprechauns and shamrocks aplenty? St. Patrick's Day must be upon us.
Enjoy celebrating your family's Irish heritage (or celebrate with the Irish in your community) with these easy dinner ideas. (Clicking on the name of the recipe will take you to the recipe itself).
Start off your traditional Irish meal with these colorful appetizers – corned beef, Swiss cheese and sauerkraut rolled up in tortillas.
A traditional St. Patrick's Day meal made of corned beef brisket served with cabbage (and potatoes and carrots, if desired).
This dish is easy with deli corned beef slices cooked with cubed or shredded potatoes and topped with fried eggs before serving.  A hearty Irish meal.
This simple fried cabbage requires only 3 ingredients and makes a terrific side dish (or add in some sausage for a complete meal).
Mashed potatoes cooked with greens (cabbage, kale or chard) and dished up creamy with butter and milk.
This dish needs to simmer for 2-3 hours for a hearty, savory dinner full of beef, potatoes, tomatoes, and seasonings.
(Use this recipe if you prefer to cook it in a slow cooker – Irish Stew)
Since most holiday meals include a dessert, here's an easy one using a store-bought pastry dough, filled with sliced apples and cinnamon, topped with sugar crumb mixture.
Of course, St. Patrick's Day isn't all about food (or drink, as some might suppose). Enjoy your Irish family dinner and remind the next generation of the real story of St. Patrick, his sacrifice for and contribution to others.  Have a discussion about how we can choose to be a positive influence and touch the lives of those around us.
What are your family traditions around St. Patrick's Day?  Do you go all out with decorations and party foods or keep thing simple?  Do you have favorite dishes you would recommend we try for our St. Patrick's Day dinner?  Leave us a comment and let us know your suggestions – we love to hear from you!