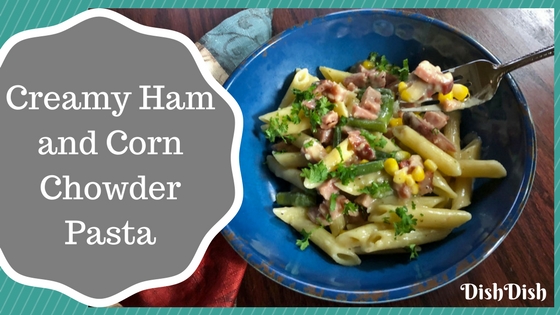 When you need a quick pasta recipe to get dinner on the table and fill everyone up quickly, this Creamy Ham and Corn Chowder Pasta is a winner!
The ham, corn, and green beans with onions are sauteed in butter; then you add a little flour to make a bit of a roux before adding the chicken broth to bring it all together in a nice creamy sauce (with some half-and-half and Parmesan to round out the flavors).
A little chopped fresh parsley adds some color and a hint of flavor while also making a beautiful garnish (to make everyone feel special at the table).
Use up some leftover ham or dice up some ham from the deli, add in frozen or canned vegetables, and this dish doesn't take long at all to be ready for your crew.
So, let's get started with step-by-step directions (view and print the detailed recipe).
We'll start by putting a pot of water on to boil and adding a little salt to it.
Next toss the diced onions into a skillet with some butter and let that cook for a few minutes until onion becomes translucent and softens a bit.
(Add the pasta to the boiling water and cook according to package directions).
Stir in the diced ham, corn and green beans (either frozen or canned), and stir over medium-high heat until ingredients begin to lightly brown (add a little more butter, if needed).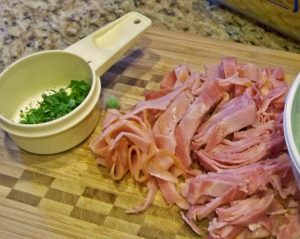 Sprinkle some flour over the ingredients in the skillet and stir (lightly coating everything), then pour in the heated chicken broth and reduce heat to a simmer. Now, we're going to let this simmer for just a few minutes until some of the broth has evaporated and sauce starts to thicken.
Then we add in the half-and-half along with some Parmesan cheese and stir well, reducing heat to low so the half-and-half doesn't curdle. (You can add the chopped parsley and stir in at this point or save it to add as garnish just before serving – or use a little for both). Stir in the cooked pasta.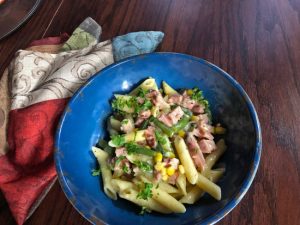 If you aren't ready to eat right away, you could cover the dish and set in the oven to keep warm for a bit without continuing to cook; or pour it all into a baking dish and top with some breadcrumbs and bake for a few minutes if you prefer to serve it as a casserole dish.
I loved how this pasta recipe reminded me of the savory flavors of corn chowder, and it was great to have the entire meal in one skillet (or serve with your favorite salad and bread, as desired).
What do you think? Will you try this recipe soon? What kind of variations would you consider for your crew? (Meatless, gluten-free pasta, different vegetables or seasonings?)
We love hearing from you, so please leave us your thoughts in the comments below.
Remember you can keep all your favorite recipes (and edit them, create a grocery list, add photos, share with friends) right here in your digital recipe box and online cookbook!