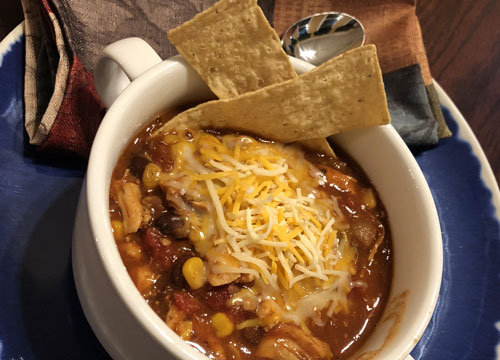 Crockpot Chicken Chili – it's the perfect blend of easy and delicious with simple ingredients. I love that I can throw the chicken in there still frozen (if it's early in the day) or thawed (if I remembered to take it out of the freezer earlier or used the microwave to defrost) and still have a wonderful home-cooked meal in time for dinner for the whole gang.
Using the crockpot or slow-cooker means I have a lot less clean-up for the meal than otherwise, and this soup goes great with some tortilla chips (so there's no bread to bake to go with it, either). In our house full of boys – there is almost always some kind of bread to go with dinner, especially if we're having soup.
But I digress. Grab your crockpot, some fresh or frozen chicken cutlets, and let's get started!
Chop some onion, green bell pepper and garlic, and toss it in the bottom of your crockpot.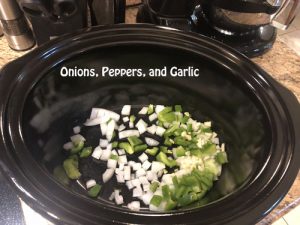 Layer the chicken pieces over the top of the vegetables, and season the chicken pieces with cumin, chili powder, fajita seasoning, salt and pepper (as much or as little as you prefer).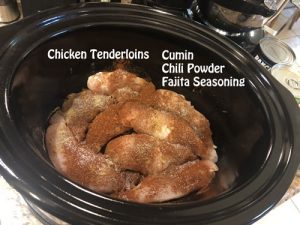 Over all of this, pour one can each of black beans, pinto beans, diced tomatoes, Mexican corn or plain corn, and tomato sauce.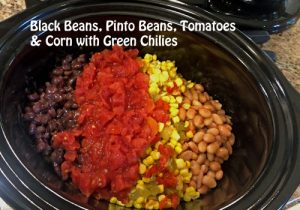 Gently pour one to two cups of chicken broth or stock over all (I used one cup when cooking for 4 hours – if you're leaving it for 8 hours or more, I'd use 2 cups so that it keeps enough liquid).
If chicken is frozen, set crockpot on low heat for 8 hours; if you're using thawed chicken pieces, cook on High for 4 hours (or low for 8 hours if you need to leave it all day).
When you're about ready to serve, pull out the chicken pieces and chop or shred them before placing back in crockpot.
Serve in large bowls and garnish with sour cream, shredded cheese, tortilla chips, jalapenos, green onions, or any other topping your family enjoys.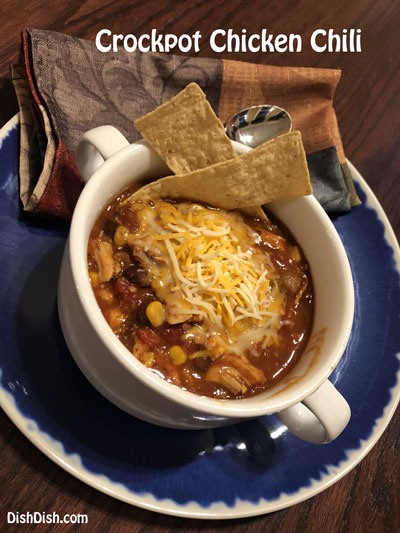 This chili was so delicious, and the whole family enjoyed. I love that there's very little chopping or prep, as well as clean up. And it's great for a large group!
(See entire printable, shareable Crockpot Chicken Chili recipe here).
What else do you like to include in chicken chili? What is your family's favorite garnish for a dish like this?
Please take a moment and leave us a comment below – we love hearing what you think!