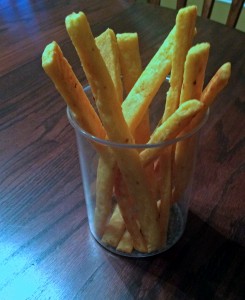 Hosting a party and need a quick finger food recipe?  Looking for a snappy quick and interesting side for that bowl of soup or green salad?
Last week when I was making potato soup for dinner, I could not decide what type of bread, roll, or cracker to have with it.  I wanted something a little bit different than our ordinary fare of biscuits, dinner rolls, or variety crackers.
After looking around online and through cookbooks, I saw several "cheese straw" recipes that looked interesting and thought that perhaps this mildly crunchy cross between cracker and bread would be perfect!  Most of them called for puff pastry, though, which I did not have on hand.
Then voila! An option with basic flour and butter ingredients – which I did have!  So, I started with a recipe from Smitten Kitchen and made some adjustments to suit the ingredients I had on hand as well as our family taste preferences.
In about 20 minutes, I had a unique cracker type side to go with our soup, and we had a new favorite recipe.  (And, remember, you can keep all your favorite recipes in one place right here at Dish Dish).
Cheese Straws (printable recipe)
1-1/2 cups finely shredded cheddar cheese
4 tablespoons unsalted butter (or stick margarine), softened and sliced
3/4 cup flour (plus a little more)
1/2 teaspoon salt
1/2 teaspoon crushed red pepper flakes
1/8 teaspoon garlic powder
1 tablespoon milk
1. Preheat your oven to 350 degrees F.
2. In a bowl, combine the cheese, flour, salt, red pepper and garlic and stir.  Add butter slices and use a pastry blender or fork to "cut" the butter into the flour mixture until the mixture resembles coarse crumbs.  Stir in the milk and press mixture together until dough can be formed into a ball.
3. Lightly flour a surface and rolling pin; roll the dough onto the surface in an 8-x-10-inch rectangle, about 1/8 inch thick.  With a pizza cutter, slice the dough into thin strips, about 1/3-inch wide (if you have to use a knife for the cutting, dip it in flour to keep dough from sticking).  Carefully place the strips onto an ungreased cookie sheet and leave at least 1/4 inch between strips.  Don't worry if the dough sags or tears as you transfer them; the straws taste great at any length!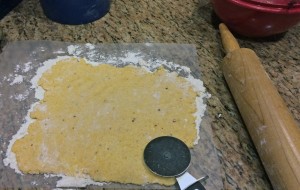 4. Place the cookie sheet on the middle rack of the oven and bake the cheese straws for 12-15 minutes or until very lightly browned.  Remove from oven and allow to cool on a rack.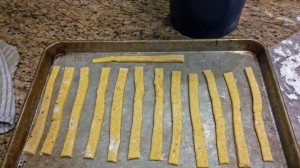 5. These are great served at room temperature.  Or store them in a sealed container in the fridge for two days (and bring to room temperature before serving).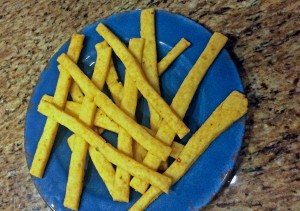 While I didn't try it this time, I think it would be great with a light egg wash brushed over them before baking and some poppy seeds sprinkled on top.  I'll have to try it that way next time.
These came out looking and tasting great and would be perfect finger food for a party, picnic or potluck, offering just the right blend of spicy savory crispiness.  Have you made cheese straws before? Let us know what you think; we love to hear from you!
Some similar recipes you might like on Dish Dish:
Garlic Bread Fries
Cheesy Twists
Everything Straws