Sometimes that veggie tray or cracker and cheese tray just needs a little something else to jazz it up and provide a soothing creaminess for dipping.
Maybe you're hosting an easy summer get-together, a brunch or shower with a few friends, or looking for a little appetizer to keep guests noshing while you finish up the main dish for dinner.
This creamy spinach dip is sure to bring you lots of compliments, and it's so easy to prep ahead and serve in a variety of ways.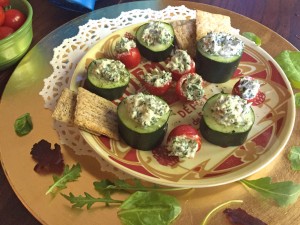 Next time, decide to dish up your spinach dip in bite-size servings of cucumbers and cherry tomatoes!
First, be sure to go ahead and mix up the spinach dip, so it can be chilling in the fridge while you get the other prep work done with the vegetables.
Spinach Dip Recipe (printable recipe)
10 oz. frozen chopped spinach (cooked, squeezed dry, and cooled)
16 oz. light sour cream (OR nonfat plain Greek yogurt)
1 cup Miracle Whip (light or fat-free)
1 package Knorr vegetable soup mix
(If you like nuts, add some chopped water chestnuts, as desired)
Combine all of the above ingredients and chill for about 2 hours before serving.
Now use a paring knife and a tomato knife to carve out the center of the veggies for filling.  However, this handy tomato corer tool, if you have one, makes the job a lot easier! Especially if you're doing very many of these.
(Chasing a rabbit – did you even know there were such tools as zucchini corers and jalapeno corers?  We had no idea!)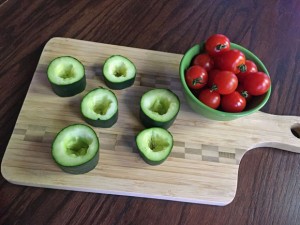 Slice the cucumber into 1-1/2 inch tall sections (leaving the peels on the cucumber, because that's healthy, provides a dark green color contrast, and makes sure the filling and cucumber don't fall apart in your hands while you're eating); then cut out a portion of the center (not all the way to the bottom) for filling with spinach dip.
Finally, carefully core the tomatoes as well (again, a bit more difficult with a tomato knife than with a tomato corer – but it can be done)!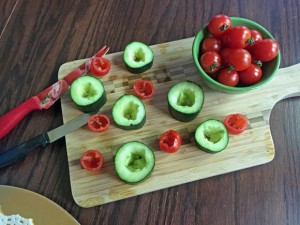 Now when you're ready to serve, use a small spoon or a piping bag to fill the veggies with the prepared spinach dip, and enjoy with your friends!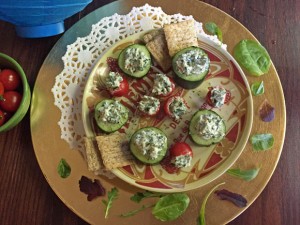 Of course, there are lots of other ways you could choose to serve up your spinach dip, too.  We liked this spinach dip filled bread bowl from Leslie Durso.
Or serve the spinach dip with your favorite vegetables and crudites on the side like The Healthy Foodie.
You could even serve it with a mix of crackers, pita chips, tortilla chips, and veggies, so your guests will have lots of options.
Do you love spinach dip?  Do you prefer it hot or cold?  It's great for a spring or summer brunch, party, or potluck.
Get your free online recipe box today and save all your favorite recipes in one place where you can find them easily, create shopping lists and menus, and share with your friends and family.