Cooking and the Rio 2016 Olympics
While you may not typically think of cooking or food when you think of the Olympic Games, obviously the athletes and participants are eating and enjoying favorite meals.  In addition, the local citizens living in the Olympics city are cooking and enjoying local cuisine throughout the games. (above photo: Michael J – Flickr)
Or maybe some of the local citizens are not able to enjoy consistent, regular meals …. due to difficult circumstances.
International Chefs Cook for the Hungry in Rio
Have you heard about Italian chef Massimo Bottura's efforts to feed the hungry in Rio during the Olympic and Paralympic games?  He and other chefs, through an effort they call RefettoRio Gastromotiva, are gathering ingredients (that are about to be wasted) from food providers at the Olympic Village.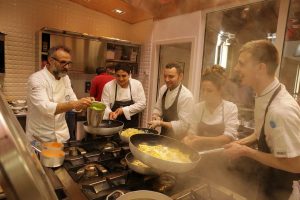 Their goal? To produce around 5,000 meals each day, (yes, that's right – 5,000!) providing much-needed meals for the impoverished residing in that area (above photo cred – Feliks Garcia).
Additionally, after the Rio 2016 Olympic games are over, the effort will continue as a social business, providing vocational training for residents who would like to work in the restaurant industry – servers, cooks, bakers, and others.  What a wonderful way to leave behind a lasting contribution to the hosting country's community, citizens, and economy.
Now, perhaps you were expecting we would share something you could cook up for yourselves that would be related to the Olympic games.  Not to worry!
Team USA Recipes by Athletes in 2016 Rio Olympics
Interestingly enough, Team USA shares videos and recipes inspired and enjoyed by various athletes competing for Team USA in 2016, in their Cooking with Team USA series.
One of our favorite meals from that series is the Brick Chicken Recipe by Brian Boitano, made with Lex Gillette's (3x Paralympic Medalist in Track and Field) favorite BBQ flavor (photo cred TeamUSA.org).
For this recipe, rub down a half split chicken with a spice combination that includes paprika, cayenne, ground mustard, coriander, onion, garlic, and brown sugar – can you say "yum"?
After letting that sit for a couple of hours, you brown one side of the chicken in a large skillet, then flip it over in the skillet, and weight it down (another skillet filled with a brick or teakettle filled with water), before putting in the oven to cook for about 20 minutes.  Then you top it off with a delicious chimichurri sauce (sun-dried tomatoes, red wine vinegar, olive oil, parsley, red bell pepper, …) before serving.
If you were an Olympic athlete, what do you think you would most enjoy cooking and eating?  Do you have any foodie traditions or recipes your family enjoys while watching the Olympic games?