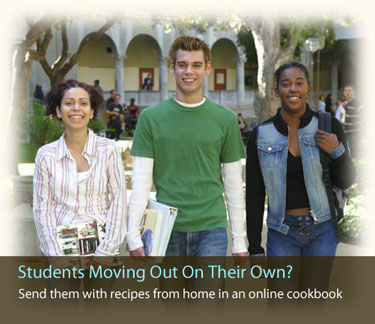 Do you have a student or child moving out on their own?  Maybe they would enjoy having some simple recipes from home that they could make for themselves in their new place!
Are you a student settling into your own place for the first time, setting up a new kitchen and ready to organize favorite recipes online for easy access and sharing?
Create a free account and enter some favorite recipes that students and young adults can use when cooking for themselves or friends during this new stage of life.  The Dish Dish online cookbook service is a great tool to help students eat a little better and have some fun, too, experimenting with recipes they have always enjoyed.
And our iPad / iPhone app, Dish Dish Online Cookbook, makes it easier than ever to access recipes and the shopping list while in the kitchen or on the go.