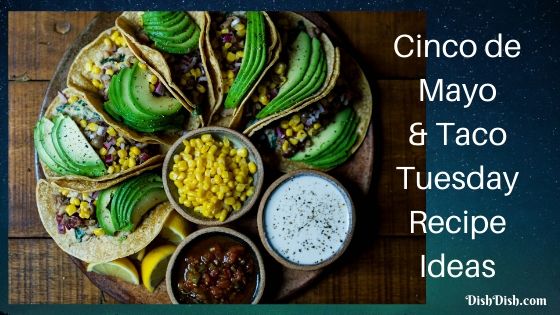 Cinco de Mayo and Taco Tuesday are here and we are excited to bring a fabulous array of recipe ideas your way; whether you are throwing a full-blown party or looking for a simple dinner idea, we have you covered. (Above photo by Edgar Castrejon on Unsplash)
Regardless of your comfort level in the kitchen, there are dishes in this list you can make and enjoy with the whole family.
So grab your sombrero and let's get started! If you need some taco seasoning, feel free to make your own with this easy recipe first.

Starter and Sauce Recipe Ideas
In case you're wanting to start off your party with some chips and fresh salsa, guacamole, or queso, here are a few recipes to get you started. We threw in the tortilla recipe just because – they're so good!
Loaded Guacamole – fresh avocados are ready for guacamole when they can just be pressed in a little bit when squeezing; mash and mix with your favorite seasoning.
Salsa – fresh fire-roasted salsa similar to Pappasito's salsa is easy with just 4 or 5 basic ingredients, oven-roasted and then mixed in a blender for quick fresh salsa.
Tortillas – this basic flour tortilla recipe makes amazingly delicious tortillas; just mix, roll out, toss each on the skillet for a turn or two, and serve up hot and fresh.
White Queso – melted cheesy goodness.
Black Bean and Corn Salsa – a salsa dip best mixed up the night before or first thing in the morning to allow the flavors to meld all day.
Taco or Burrito Recipe Ideas
Tacos or burritos are a simple mainstay recipe for Taco Tuesday or Cinco de Mayo. Grab some taco shells or soft flour or corn tortillas from your local store – or make some from scratch, make your preferred taco or burrito filling, and you are ready to serve.
Shrimp Tacos – white corn tortillas wrapped around sauteed shrimp with coleslaw and sriracha aioli sauce.
Fish Tacos made with Tilapia – pan-fried tilapia served in corn tortillas with slaw, avocado, and queso fresco.
Chipotle Chicken Lime Tacos – start these the night before and marinade the chicken overnight or at least all day before cooking and preparing to fill tacos. Delish!
Traditional Beef Tacos – simply cook up a pound of ground beef and season with homemade or packaged taco seasoning mix. Serve the beef with crunchy or soft taco shells, shredded lettuce, shredded cheese, diced tomatoes, sour cream, salsa, and avocado slices or guacamole.
Enchilada Recipe Ideas
Enchiladas are a basic dish with filling variations wrapped in corn or flour tortillas, covered with a favorite sauce – red, green, mole, sour cream – and cheese and baked before serving.
Beef Enchiladas – flour tortillas wrapped around beef and cheese filling, topped with red sauce and shredded cheese and then baked to perfection.
Green Chili Chicken Enchiladas – poached, pan-fried or grilled chicken is shredded and tossed with shredded cheese and green enchilada sauce for filling flour or corn tortillas. Roll up tortillas and top with more green enchilada sauce and grated cheese before baking for a few minutes. Enjoy!
Creamy Seafood Enchiladas – stuffed with shrimp and crab, these enchiladas are covered in a mild creamy sauce; it's a perfect dish that is not too spicy.
Vegetarian Spinach Enchiladas – spinach, chipotle chiles, tomatoes and Monterey Jack cheese fill up tortillas rolled and topped with the spicy tomato sauce and more cheese.
Nacho or Quesadilla Recipe Ideas
We love nachos or quesadillas either as starters before the main meal or as a simple meal all by themselves. It is so nice that either can be filled or topped with whatever favorite ingredients you desire, so the sky is the limit!
Black Bean Quesadillas – flour tortillas sandwiched around a mixture of black beans, cheese and salsa and pan-toasted.
Shrimp Quesadillas – simple quesadillas filled with shrimp, sweet peppers, and cheese.
Loaded Nachos – a layered dish of tortilla chips with taco seasoned beef and beans, cheese, tomatoes, and cilantro, topped with homemade pico de gallo and diced avocado.
Kickin' Grilled Nachos – serve up these tortilla chips with cheese, onion and peppers, toasted over the grill for a smoke-fired taste.
Dessert Recipe Ideas
We love serving dessert on special occasions and these two dessert recipes are sweet and delicious. Both require a bit of work ahead time, but take your time and enjoy the process. It is definitely worth it.
Sweet Fruit-Filled Empanadas – buttery dough filled with your favorite fruit filling and baked for a warm delicious dessert; optional glaze topping or sprinkle with powdered sugar.
Strawberry Tres Leches Cake – a creamy white cake with strawberries, this dessert needs to be prepared the night before or started in the morning if serving that evening.
Does your family have traditions around Cinco de Mayo celebrations? Do you have favorite dishes to serve different than the ones we have shared? Please take a moment and share your thoughts with us in the comments below.
Remember your family can save all your favorite recipes in your own digital cookbook right here on Dish Dish.