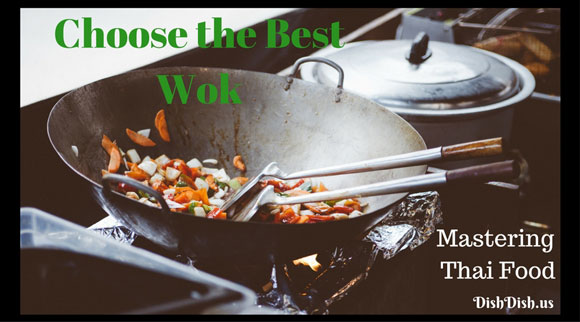 Should I Own a Wok?
If you enjoy occasionally cooking some Chinese or Thai food and have enough storage space in your kitchen, owning a wok is a great investment and will make your dishes easier to prepare and enjoy.
While using a skillet is an acceptable fallback and will usually work all right for stir-fry recipes, using a wok can improve your Asian cooking experience and dishes, making the meal much more enjoyable.
1. A wok makes it easier to move food closer to or away from the high heat zone
2. The wok requires less oil than a traditional skillet or fry pan
3. A good wok will distribute heat more evenly than most skillets
In order to choose the best wok for your kitchen, be sure to pay attention to the shape of the wok (flat bottom or round bottom – flat bottom is a better fit for most modern ranges).
Choose whether you would like two small handles on either side of the wok, or if you would prefer one long handle and a short handle on the other side (so you can move it around similar to a frying pan).
Remember that you will need to season a good wok, too, coating in a light coat of food-safe oil to keep it from rusting and to make it effortlessly non-stick over time.
While you can find woks in a variety of materials – aluminum, stainless steel, cast iron, copper, and carbon steel – most cooks seem to prefer the carbon steel version for the combination of good construction, lighter weight, and its handling of quick temperature changes.
Cooking with Your Wok
Now that you have chosen your wok and are ready to cook, let's dish up some Basil Thai Minced Pork for a quick dinner this week, giving you the chance to master a Thai dish for your family and friends.
Start by heating a little cooking oil in your wok (about 2 tablespoons).  Stir in a couple of pinches of chili flakes and a few minced cloves of garlic, then add 1/2 pound of ground pork to the wok; stir-fry to cook until cooked through, breaking the pork into crumbs while cooking.
Remove the pork from the wok and set aside.
Stir a chopped onion and some chopped mushrooms into the work, adding a couple heads of chopped bok choy after the onion and mushrooms have cooked for a couple of minutes.
Add in equal parts (about 3 tablespoons each) of fish sauce, oyster sauce, low-sodium soy sauce, and just a dash of honey, stirring well to combine with vegetables.
Stir in the set aside pork and allow to heat for another minute or two.
Just before serving, use scissors to cut some fresh basil leaves into pieces and sprinkle over the wok.  Serve hot with rice and a sunny-side-up egg.
(See entire detailed printable Thai recipe)
Related Posts:
1. Thai Curry Turkey and Cabbage Stir-Fry