Recipe Ideas for Back-to-School
It's that time of year again – back to school for all the children, and back to a routine for the household, right?
Or, goodness gracious, maybe you're even sending kids off to college – for the first time or for another year!
As we all get back to a routine for the school year, slowly letting go of those care-free summer days, we wanted to share a few recipes (without overloading anyone with too much work to do).
Easy Dinner Recipes
Keep in mind the activities for each day of the week as you plan your meals.  If there will be little turn-around time between school pick-up and evening activities, plan a crockpot meal that day so it will be ready to eat quickly between events.  If you have the night free from additional activity, plan a fun family meal that the kids can help make (think family pizza night or taco night).
Whatever your week holds, laying out a menu plan for the week (even if you don't stick to it strictly) will help keep everyone fed and prevent the waste of running through the drive-thru.
One Skillet Gluten-free Orange Beef and Broccoli
Pierogies with Sausage, Peppers and Onion
One Skillet Chicken and Rice Dinner (pictured above)
Crockpot Italian Chicken with Tomatoes
Snack and School Lunch Recipes
Since it won't be long before you (or the kids – or both) are tired of seeing sandwiches packed for lunch each day, give some of these creative options a try – either for school lunches or after-school snacks, especially when dinner will be late.
Pepperoni, Cheese and Turkey Cracker Sandwich 
Make-Ahead Breakfast Recipes
Well, now that we have dinners and lunch covered, what about breakfast?  We know it is very important to have a good, healthy start to the day, but who has time to put together a big breakfast on a busy school morning?  Right – we thought so.  Here are a few easy ideas, most of which can also be made-ahead the night before to help with the morning rush.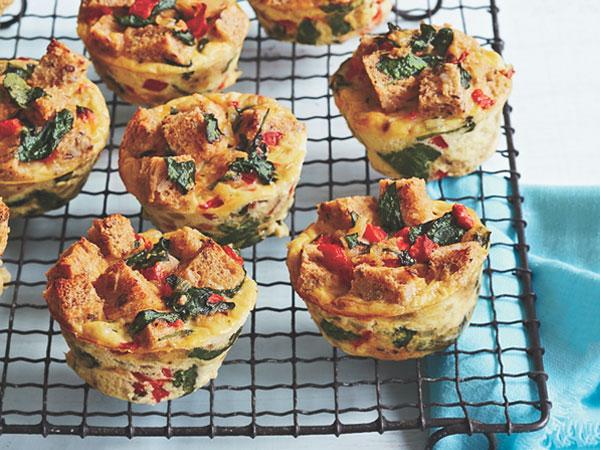 Breakfast Stuffins (pictured above)
Make-Ahead Freezer-Friendly Breakfast Burritos
Strawberry Breakfast Yogurt Parfait
Crockpot Oatmeal and Apple Breakfast Casserole
Freezer Friendly Pancake Muffins
Now that you are all ready to plan menus and enjoy family meals together, we wish you a happy and successful Back-to-School season!