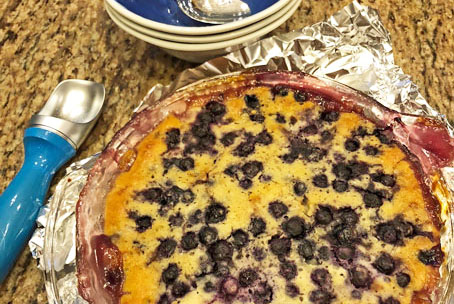 One of the things I love about summertime is the ability to easily get fresh blueberries and peaches in our area. There is almost nothing as good as biting into a perfectly fresh, ripe peach and enjoying the sweet, luscious flavor.
However, the nice thing about this recipe for Peach Blueberry Cobbler is that it can just as easily be made with frozen peach slices and blueberries (so you can enjoy the fabulous flavor any time of year).
If you have a local farmers' market or, even better, a Pick-Your-Own farm nearby where you can pick peaches or blueberries for yourself and enjoy them fresh, I encourage you to take advantage of those opportunities for fresh local produce. Both activities are especially fun with the kids or grandkids for a fun outing.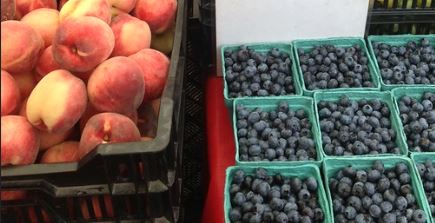 But now for our recipe, so you can get started on yours right away ….
First you'll preheat the oven to 375 degrees Fahrenheit and then spray your baking dish (a deep dish pie pan or a 2-quart baking dish) with a little cooking spray. (This keep the cobbler topping from sticking to the pan after baking).
Then toss your sliced peaches and some blueberries with a little bit of sugar and place them into the prepared baking dish. If you like, sprinkle a little cinnamon over the top of them before preparing the cobbler topping, to add another flavor dimension to the dish.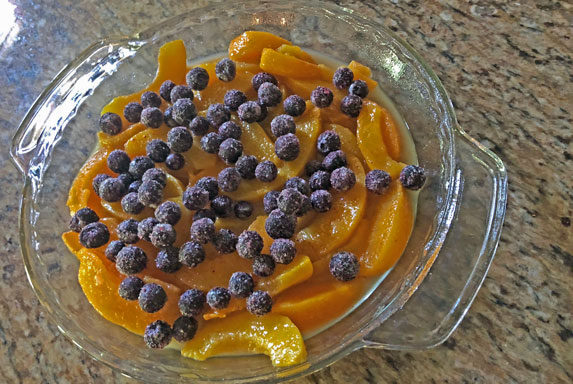 For the cobbler topping, we'll use a mixer to beat together sugar and butter. Then mix in some eggs and vanilla.
Lastly, combine the flour, baking soda and salt and add that mixture to the butter mixture alternately with some buttermilk (about half the flour, followed by half the buttermilk, and repeating), until all is combined. (See recipe with measurements and details).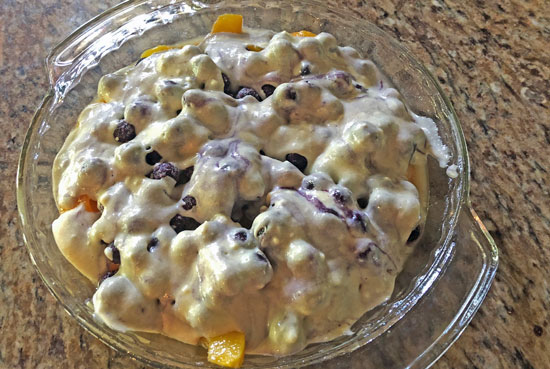 It might sound a little complicated, but these are all basic ingredients from your pantry and fridge, so it doesn't take long at all to whip together.
Side Note: If you do not have buttermilk, simply use 1 teaspoon of lemon juice or white vinegar and add enough regular milk to make one cup of buttermilk (best to mix this up and let it sit for a few minutes to combine before using).
Pour the batter over the top of the peaches and blueberries, and set the baking dish on a baking tray lined with aluminum foil (to contain any spill-overs from your dish while baking); sprinkle a little turbinado sugar over top of all, if you like. Place in the pre-heated oven and bake for 45 minutes or until batter is baked, set, and lightly browned.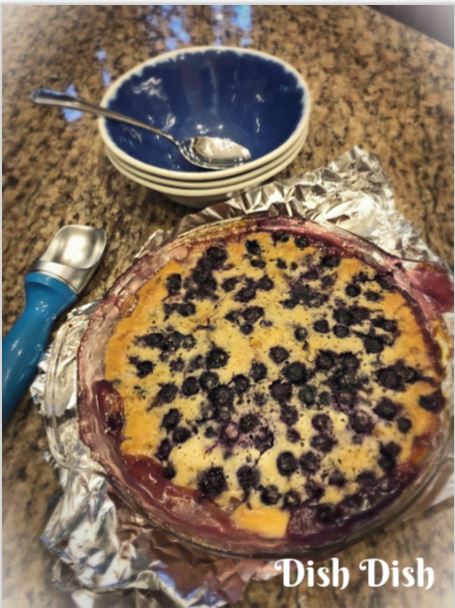 This is so yummy, it doesn't need anything else with it for serving; but if you'd like to top it with a dollop of whipped cream, a scoop of ice cream, or a drizzle of cold fresh milk, go right ahead. I often like mine with those added goodies, too!
Here are links to a few of the items we used while making and serving our cobbler, in case your kitchen needs some accessories (affiliate links mean your purchase supports Dish Dish without costing you any more), and we hope you enjoy.
Clear Deep Dish Pie Pan
Hand Mixer
Baking Trays
Ice cream Scoop
And if you love peaches and blueberries as much as I do, you'll really enjoy these recipes, too:
Pesto Pork Pinwheels with Grilled Peaches
Keto Blueberry Blender Pancakes
Peaches and Cream Oatmeal Smoothie
What are your favorite dishes with peaches or blueberries? Does your family have some traditions or cultural favorites with these fruits? Leave us a comment below with your ideas or suggestions; we love hearing from you!
Remember, you can keep all your favorite family recipes digitally in your online cookbook right here at Dish Dish in your own digital recipe box!