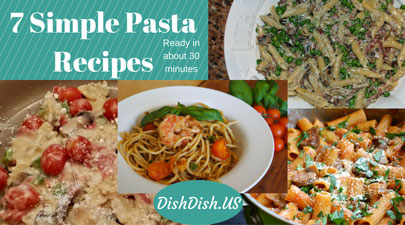 Today we are sharing 7 simple pasta recipes to enjoy with your family this week.
The great thing about these pasta recipes is that they are fairly simple to make, keeping cooking time to a minimum (most ready in about 30 minutes), and generally healthy meal options.
Make your pasta dishes even healthier by choosing whole grain pastas or using a spiralizer to make vegetable noodles for your pasta recipes.
Pasta is great for stretching your protein ingredients for a larger size group, too.
So, let's get started!
A simple and light vegetarian dish, ready in about 20 minutes or so.  While cooking the pasta, dice up the cherry tomatoes and zucchini, then stir-fry for just a few minutes with seasonings before tossing in the cooked pasta and topping with some Parmesan cheese (or other cheese, as desired).  Yummy!
Serve up dinner and only use one skillet (fewer dishes to wash is always nice, right?)!  Brown some sausage, then cook with crushed tomatoes, garlic, onion, and seasonings with vegetable broth, adding rigatoni or penne pasta and cooking 'til pasta is cooked through.  This easy dinner is ready in about 30 minutes and has a mix of flavors everyone is sure to enjoy.
Image by Budget Bytes
Dish up some shrimp with your pasta in this recipe seasoned with fresh tomatoes, basil, and balsamic vinegar.  Cook the pasta as directed, tossing in shrimp during the last 3 minutes of cooking.  After draining the pasta, stir in the tomatoes and seasonings, and it's ready to eat!  Super easy, fresh, and ready in no time.
Now for a little different pasta dish, made with pepperoni, mushrooms, cherry tomatoes, and cheese.  Creamy white sauce and veggies host the pasta and pepperoni for a cheesy filling dinner ready in about 30 minutes.  Lots of yummy flavors here!
Here is a pasta salad that is perfectly cool and creamy for a fresh summer treat.  Cooked pasta tossed with fresh broccoli, carrots, tomatoes and green onions with a creamy ranch dressing and cottage cheese.  Another cool dinner that's ready in less than 30 minutes.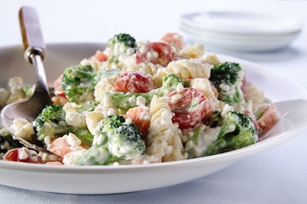 Similar to a dish served at Olive Garden, this creamy pasta dish is filled with mushrooms, peas, ham, and seasonings, and ready in a little over 30 minutes.  Saute garlic with mushrooms for a couple of minutes before stirring in cream, chicken broth, ham, vegetables and seasonings and allowing to simmer while pasta cooks in separate pan.  Combine ingredients after draining pasta, and top with grated Parmesan before serving.
I love a good creamy tomato sauce, and this one with added vodka is so smooth and full of flavor with a dash of red pepper, garlic and Italian sausage.  Top off with some fresh basil and parmigiano-reggiano for a delightful dinner (simple enough for a small family dinner or a large potluck group)!
What are your favorite pasta recipes?  Do you like to experiment with various vegetables and proteins with your pasta?  Leave us a comment below about your pasta experiences!