We are celebrating American Heart Month and sharing some healthy dinner recipes for your heart!  Did you know that according to the American Heart Association, 1 in 4 deaths every year (across both men and women) are caused by heart disease?
In addition to staying active, controlling cholesterol and managing stress, eating healthy is a great way to keep your heart ticking strong and robust for years to come.
So, let's take a step towards a healthier heart and explore some healthy recipes.  (As a rule, when using canned goods be sure to use low-salt or sodium-free versions, and make sure to rinse and drain canned vegetables.)
These dinner recipes will keep your tummy and your heart happy with robust flavor from terrific spices and ingredients.
1. Minestrone tops our list and is a vegetarian meal as well.  This hearty soup is filled with veggies like zucchini, tomatoes and green beans along with a bit of pasta (and it's so easy, you can have dinner ready in less than 45 minutes).
2. Mediterranean Pan Roasted Salmon is next up, a one-skillet dish with loads of seasonings, some fennel and tomatoes; garnish with lemon wedges.  (And this easy dish is ready in about 20 minutes!  Who says eating healthy is too much work?).
3. Pork Tenderloin marinated in olive oil and red wine vinegar with seasonings, then grilled with peppers and served over black beans with some of the reserved oil and vinegar sauce.
Photo by Ditte Isager
4. Country Chicken with Mushroom Sauce – Chicken is cooked in a white wine mushroom sauce and served with the sauce over whole wheat pasta or brown rice.
5. Pasta with Asparagus, Tomato and Feta – another vegetarian option.  Use whole grain pasta for healthiest dish; so quick and easy it's perfect for lunch or dinner.
6. Fennel-Garlic Braised Brisket – this brisket is braised and then cooked in a tomato garlic fennel sauce and served with roasted red bell peppers and potatoes.  It is well worth the wait (enduring the amazing smell as it cooks half the day).
7. Sweet BBQ Chicken Kabobs wrap up our heart healthy recipes list.  Fill your kabob skewers with chicken, pineapple, and red and green peppers; season with BBQ sauce and a little orange juice, and grill to perfection.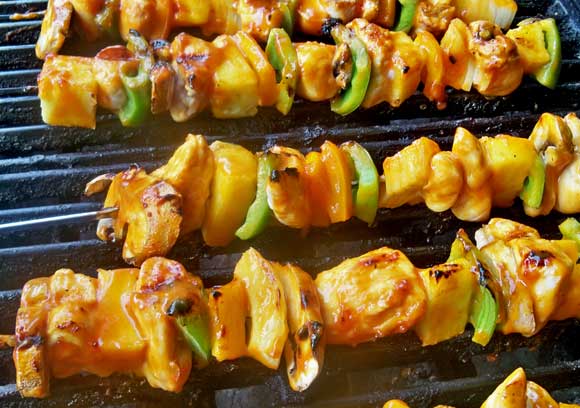 Reader's Digest and WebMD have compiled lists of best foods for a healthy heart, including berries, almonds, walnuts, whole grains, olive oil, avocado, beans (legumes), and dark chocolate.  Add some of these foods to your regimen in the coming weeks and give your heart a healthy boost.
Do you follow a heart-healthy regimen?  What are your favorite dishes or tips for a healthy heart?