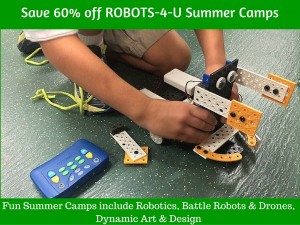 Are you looking for fun, educational opportunities for your children this summer?  We often found ourselves looking for great options to keep our boys busy over the summer when they were younger. (This is a sponsored post, all opinions presented are our own, and we are excited to offer this amazing discount for you.)
Let your summer campers have a BLAST while learning and playing in a dynamic environment; learning about Robotics and Science, in an independent and exciting way!  (Psst … Don't miss the 60% discount code below!)
ROBOTS 4-U Summer Camps offer a variety of options including Robotics, Dynamic Art, Battle Robots and Drones for the ultimate S.T.E.A.M. education (Science, Technology, Engineering, Art and Math).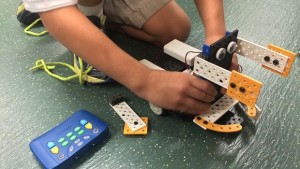 In the Dynamic Art and Design summer camps, technology meets creativity providing both a scientific and creative outlet for your young person.  The program combines art and technology, giving the camper the experience of making moving sculptures – that sounds like fun, right?!?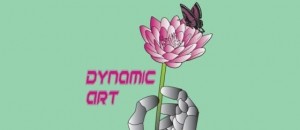 Find the perfect summer camp for your young one with the following options:
– Robot / Science / Engineering / Day Camp / Challenges
– Camps for Girls and Boys – ages 7 to 14
– Robot Camps and Dynamic Art Camps are offered during June, July and August
– Hands on Learning, Self-Paced, Beginners to Expert!
These fun summer camps fill up quickly, so be sure to register early!


Our readers save 60% Off with Code TEX1660M15 at
www.Robots-4-u.com (expires 3/31/16, so don't delay).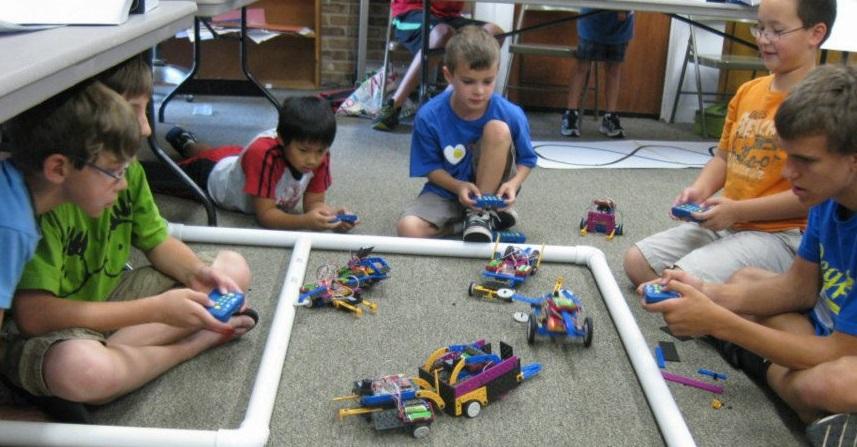 A few key details about these fun, interactive, learning summer camps:
– 1 week (5 days) long
– Monday to Friday, 9:00 – 11:30 AM and 12:30 – 3:00 PM
– Campers Ratio: 1 instructor to 16 participants
– Each camper individually uses a Robotics or Dynamic Art kit (Robot kids do not go home with campers, but are available for purchase)!
 Check out this Battle Bots video from Robots-4-U and see how much fun your camper could have while learning science and technology this summer.
For the current Robots-4-U Camp Special Offer, get your exclusive coupon from Family Guide.  What summer camps do your kids enjoy?