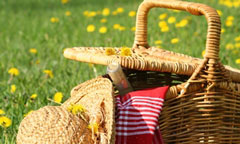 Picnics are so much fun! – whether all decked out with a favorite picnic basket, having pulled out a soft, smooth picnic blanket from the closet, and packed up some easy picnic dishes ready to set out on the picnic table at a park or just keeping it simple eating outdoors in the back yard. And, of course, you'll need some great food to dish up, like these 5 picnic basket dishes that are sure to please, and all with 10 or fewer ingredients.
1. Potato Salad with Bacon and Tomatoes – mayonnaise-free potato salad perfect for toting outdoors and loaded with flavor.
2. Chicken Salad with Apples and Cranberries (Sandwiches) – apples and cranberries add tang to the chicken salad sandwiches.
3. Cucumber, Turkey, Avocado Roll – gluten-free option for lunch with turkey and avocado rolled up inside cucumbers, making a unique treat from only 3 ingredients.
4. Cool Strawberry Salsa with Cinnamon Chips – fruit-filled salsa with cinnamon tortilla chips add some pizzazz to the party.
5. Applesauce Oatmeal Cookies – a simple, moist comfort dessert for that sweet tooth.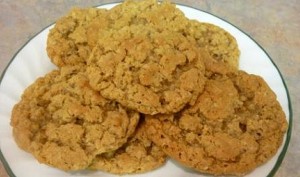 We have lots of other picnic menu ideas, too. What are your favorite picnic recipes? Leave us a comment here or on our Facebook page telling about your favorite picnic dish or a fond picnic memory. We love to hear from you!
Remember to add your favorite recipes to your Dish Dish online cookbook, so you can find them when you want them whether at home, at work, or at the store.