Do you open your pantry door and cringe at the overload of items?  Does it ever seem like the "pile" may soon overwhelm you and is always making it difficult to find what you need?
Well, ditch the overwhelm by using these 5 gadgets to organize your pantry, making it easy to find what you need, and saving you time and money!  Save time when planning and prepping for meals, and save money by not buying more at the grocery store of what is already sitting in your pantry.
Before taking a look at gadgets, though, come up with a basic plan for organizing the pantry into sections of items for similar uses.  For example, perhaps your sections would be something like the following: Baking, Cereals & Breakfast, Canned Goods, Snacks, Seasonings & Cooking, Beverages & Supplies, Paper Goods.
1. Storage Containers and Labels
Consider using storage containers that are see-through for easy identification (and similar in design for an eye-pleasing view) and label them, if desired, with chalkboard labels and white chalk markers.  Get creative with containers and labels and have a good time with this part!
2. Tall Wire or Chrome Shelves
If you have tall shelves, use a wire or chrome pantry-shelf  for double-stacking items and providing more space in any section where you need it.  (Consider your overall plan and sections to see which areas most need extra space).
3. Door or Wall Rack
Use a door or wall wrap rack for storing and organizing all those boxes of saran wrap, aluminum foil, baggies, and other similar items in one place, easy to reach (without cutting yourself on the box).
4. Under-shelf Racks
Another item that is helpful if you have tall shelves is an under-shelf wire rack basket, allowing you to add a little more space in sections as needed.  This could be a great way to store saran wrap and foil if a door or wall rack is less feasible in your pantry.
5. Layered Can Racks
For canned goods, you could consider a can rack to store canned goods where they are easily visible, layered simply, and can be stored with extras in the back to keep the oldest ones in front and ready to use first.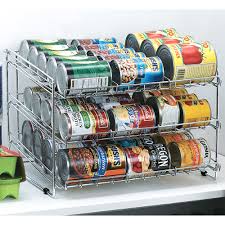 For a quick recap:
* plan your pantry sections first,
* clean out and discard old outdated items,
* ready yourself with appropriate containers, shelf helpers, and labels,
* and in no time at all you will have an organized, easy-to-use, visually pleasing pantry to enjoy!
What are your ideas for pantry organizing?  Do you have some tips to share with us that helped you get the kitchen organized?  We would love to hear them!  Just leave us a comment below.
Remember to organize your favorite recipes here at Dish Dish, so you can declutter your kitchen drawers and shelves and find the recipes you like when you need them – in the kitchen, while shopping, or for sharing with friends!

Disclosure: This post contains some affiliate links which cost you nothing extra and help us earn a little to support the site. Thank you!