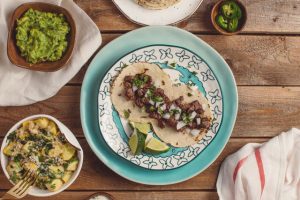 Oh my goodness!   Cinco de Mayo is just around the corner – another reason to host a party.  We are sharing 5 Fiesta Dishes for Cinco de Mayo!  While it has become a larger celebration in the U.S. than in Mexico, Cinco de Mayo commemorates a significant victory of the Mexican Army over the French in 1862.  In the United States it is mostly a celebration of Mexican culture – marked with parades, mariachi music, parties, and of course lots of good food! (Above photo by Travis Yewell on Unsplash)
When I was growing up, we had some dear friends who owned and operated a couple of Mexican restaurants and made the best Mexican food I had ever tasted – tamales, enchiladas, guacamole, fresh tortillas, and one of my favorites – sweet empanadas!
While they shared techniques and helped us make some of these dishes for ourselves (my family still loves having home-made tortillas!), I always enjoyed when they would make empanadas for holidays or fiestas.  So I finally embarked on an adventure today to make some for myself and see if I could recreate the flavor and experience from so many years ago.
Start with the sweet pastry dough, which comes together in just moments with a food processor or stand mixer, and yet isn't difficult with a hand mixer, either.  It does need time to chill for a couple of hours, though, before it's ready to handle and turn into yummy sweet pastries.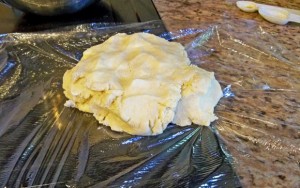 Today I used some cherry pie filling for mine.  But this recipe includes directions for both homemade cherry or apple filling.  And my friend used to fill hers with apricot preserves (or even pick a preserve based on its color to match a party theme) – making this dessert even easier to put together!
Empanadas are made by cutting the dough into circles, placing the filling in the middle, and then folding the circle in half (similar to a calzone – but much smaller) and crimping the edges.  This is not too difficult to do by hand – especially if you use a fork to crimp the edges after lightly wetting them with a bit of water.
However, easiest yet is to use an empanada press or hand pie press like the ones pictured below – use one side to cut out the circle, and the other side to fold and crimp it after filling (be sure to dip it in a light coating of flour first, so the dough doesn't stick to it).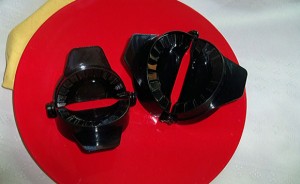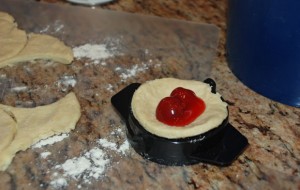 Finally they are ready to go into the oven and bake for a few minutes; after baking, add a little extra sweetness by either drizzling with a light glaze or sprinkling powdered sugar over the tops before serving warm.
Mmm!  My mouth is watering already.  Not sure I'll finish the article before scarfing one down – oh, wait, sticky fingers are bad for typing!
And if you're trying to behave and not eat too much sugar, choose to make them a bit smaller and then just one won't ruin your good efforts!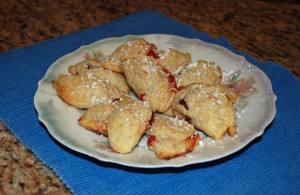 Now, as promised, some other Fiesta Dishes for Cinco de Mayo:
          2.    Guacamole
          4.    Chicken, Avocado, and Queso Fresco Tostada
Do you have some favorite fiesta or Mexican dishes that you enjoy making (or just eating, or both) either for Cinco de Mayo or any day of the week?  Leave us a comment with some of your favorites and other ideas.


And remember, with your Dish Dish recipe box account, you can start organizing all of your favorite recipes (whether from papers in a drawer or folder, torn-out magazine pages, Grandma's recipe box, or your favorite foodie website) here at Dish Dish in one place in your own online cookbook; de-clutter the kitchen and find your recipes easily where you can edit them, add photos, create shopping lists, share with friends, and more.
We look forward to seeing your favorites on here soon!