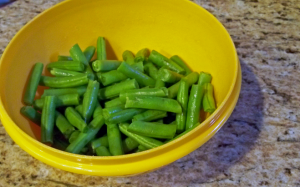 Got Green Beans?  I love fresh from the garden green beans!  So we are talking today about 5 amazing ways to serve up green beans.  But before we get to that, let's touch briefly on buying and storing them and their healthy benefits.
Buying and Storing Green Beans
It's nice to purchase your fresh green beans at a farmers market or a store where the loose beans are left for you to sort through and pick out the best ones.  Pick out the ones that have a smooth texture, don't have brown spots, and have a vibrant green color.  They should be firm enough to give a good "snap" sound when broken.  Store the fresh green beans in the fridge in a plastic bag for up to a week.  If you want to buy a bunch and freeze them, that works well, too; they can last 3 to 6 months in the freezer.
Healthy Benefits of Green Beans
Really?  Yes, green beans are good for you, full of many health benefits.  First, they are a great source of dietary fiber and low in calories.  They are full of Vitamins A, C, and B-6, helping our bodies with resisting infection and fighting off free radicals.  They're good for our metabolism, too, with minerals like iron, manganese, calcium, and magnesium.
Amazing Ways to Serve Green Beans
And now to our main topic, amazing ways to serve green beans.  We are highlighting these five recipes that serve up delicious complementary flavors with the green beans and provide colorful, out-of-the-ordinary options for your next green bean side dish.  I have fond memories of my great-grandmother cooking up a huge pot of green beans, fresh from her garden, simmering them for what seemed like half the day with some bacon and fresh onion, until everything was tender and so savory!  I always thought they were the best green beans – but here are a few ideas.
1. Garden Green Beans are cooked up with some sauteed fresh mushrooms and onion, water chestnuts, and seasoned with Italian seasoning and a little Parmesan cheese just before serving.
2. Green Beans with Bacon and Onion – a quick, short-cut version with bacon bits and dried minced onion for when you're really short on time.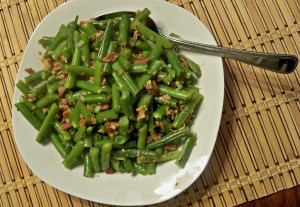 3. Green Beans, Grape Tomatoes and Feta – roasted green beans and tomatoes topped with some feta cheese for even more delicious flavor.
4. Green Beans and Pancetta with Browned Butter and Chestnuts – green beans are simmered with browned butter, pancetta and chestnuts, oh my!
5. Basil Buttered Beans – green beans cooked in chicken broth, topped with melted butter and sprinkled with basil.
Click on the title or image of any of the above recipes to get the complete recipe and directions and to save the recipe ingredients (from any recipe on Dish Dish) right to your shopping list so you're all ready for the grocery store.
We hope you enjoy these amazing ways to serve green beans and will leave us a comment below with your favorite ideas or memories around dishing up green beans.