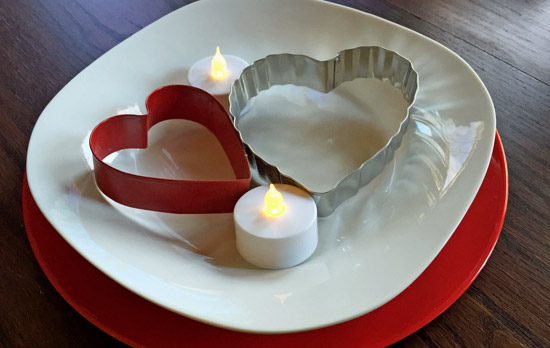 These 3 Valentine's Day last minute treats will save the day if you find yourself still trying to figure out how you are going to celebrate with that special someone.
Whether you're staying in or going out for dinner, delight your significant other with one of these simple treats for dessert afterwards; and these are moderately healthy options, so you won't have to regret indulging a little.  Add a little candlelight and soft music and you're good to go.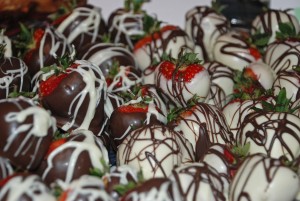 1. Chocolate Covered Strawberries (Serves 4)
These look amazing like you worked all day, but with only 3 ingredients and about 30 minutes of time, you're finished in a flash!
12 whole strawberries (rinsed, thoroughly dried)
4 ounces of melting chocolate
4 ounces of melting white chocolate
In a small bowl, melt the chocolate in the microwave on high in 90 second increments until melted and creamy.  For the white chocolate, in a small microwavable bowl, melt on high heat in 60 second increments until melted and smooth.
Line a counter or baking sheet with waxed paper; drip strawberries in one type of chocolate or the other, allowing extra chocolate to drip back into bowl.  Lay the strawberry on the wax paper and allow chocolate to cool and harden (about 5-10 minutes).
Then cross-dip the strawberries, if desired, dipping chocolate strawberries into white chocolate and vice-versa, and again placing on waxed paper to fully cool and dry.
Use a fork to lightly drizzle alternating chocolate across dipped strawberries.  And you're done!  Enjoy!
2. Molten Chocolate Cake (Serves 4)
If chocolate is calling your name, this is the perfect treat; and still in a small portion, so you won't indulge too much!
4 squares semi-sweet baking chocolate (or 3/4 cup semi-sweet chocolate chips)
1/2 cup butter (or margarine)
1 cup powdered sugar
2 eggs
2 egg yolks
6 tablespoons flour
2 cups whipping cream
2 tablespoons sugar
Preheat your oven to 425 degrees F.  Spray 4 custard cups (or small individual sized baking dishes) with baking spray and place on a cookie sheet.
Microwave butter & chocolate in a large bowl on high for about 1 minute until butter is melted; whisk until chocolate is also melted.
Stir in the sugar, then whisk in the egg yolks and eggs until well combined; stir in the flour.
Divide batter between prepared cups and bake 12-14 minutes or until sides are firm and center is soft; let stand 1 minute.
While cakes are baking, whip together the sugar and whipping cream until stiff.  Invert hot cakes onto dishes and top with whipped cream.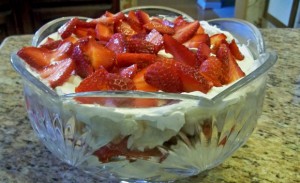 3. Easy Strawberry Trifle
Just 3 simple ingredients and 15 minutes, and you will have a colorful light dessert dish that looks impressive. (Serves 2)
1/4 of an angel food cake, cubed
1/2 pound strawberries, washed, hulled & sliced
1/2 carton of light whipped cream
In bottom of two small bowls or dessert dishes, layer half of angel food cake pieces between the two dishes, followed by a layer of whipped cream spread evenly over the cake, and topped with half of the sliced strawberries.  Repeat the layers ending with strawberries.  Make it ahead and keep covered and refrigerated until ready to serve.
Do you like to stay in for Valentine's Day or go out?  Do you have a favorite dish or dessert you like to make and enjoy for Valentine's Day?
We love to hear from you about your dishin' adventures!

Other Posts You Might Like:
Valentine's Day Dinner and Dessert
How to Make Chocolate Dipped Strawberries (video)
Five Quick Easy Weeknight Dinners