Does the cold weather make you long for a dish that will remind you of the Tropics and bring a little warmth and sunshine to your kitchen?  You're ready for 3 steps to a tropical dinner!  While macadamia nuts can be a little on the pricey side (so keep your eyes out for a good deal on them), you don't need very many of them to provide a good crushed coating for this Macadamia Crusted Chicken dish topped with Pineapple Apple Salsa.  Yum!
Last week this dish was a big hit at our house, and it is so quick and easy to prepare, you'll wonder why you haven't tried it before (I think it would work really well with any kind of fish, too!).
1. Make the Pineapple Apple Salsa – you can make this ahead of time, even the day before if you want, and keep it in the fridge until you're ready to serve.
1 large apple – cored, diced
1-1/2 cups diced fresh pineapple
1 jalapeno pepper, de-seeded, diced
1/2 cup diced yellow bell pepper
2 tablespoons fresh lemon juice
In a medium-sized bowl, combine all of the salsa ingredients and stir; set aside or cover and refrigerate until ready to serve.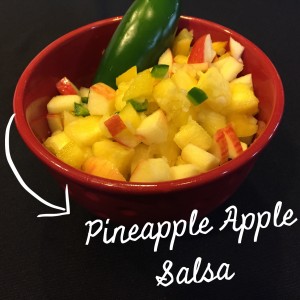 2. Make the Macadamia Crusted Chicken – seriously you will be ready to eat your tropical dinner in about 15 minutes!
2 boneless, skinless chicken breasts, cut in half and pounded to 1/2-inch thickness (or use chicken tenderloins)
1 teaspoon salt
1 teaspoon black pepper
6 ounces macadamia nuts, finely chopped or crushed
3 tablespoons olive oil
Place crushed nuts in a shallow bowl or spread on a sheet of waxed paper.  Place 1 piece of chicken on the nuts and press firmly to make the nuts stick to the meat; then gently flip the piece of chicken and repeat.  Carefully set aside and repeat with remaining chicken (or place each piece directly into heated skillet).  Heat oil in large skillet over medium heat; cook chicken pieces until golden on one side (about 3-5 minutes).  Use a spatula to carefully turn chicken over and continue cooking for another 3-5 minutes until cooked through and golden.
3. Plate the chicken on 4 plates and top with the Pineapple Apple Salsa.  Serve and enjoy!
For the printable, scalable recipe or to add ingredients to your shopping list, see Macadamia Nut Crusted Chicken with Apple Salsa.
You can always save your favorite recipes, add as many as you like, find them and share them from anywhere with your own Dish Dish online cookbook account!  Leave us a comment with your thoughts about this dish and what types of tropical dishes you enjoy.  We love hearing from you!