So it seems that recipes with coconut oil and cooking or baking with coconut oil is all the rage these days.  I have only recently started using unrefined* coconut oil in cooking, perhaps jumping on the bandwagon a little belatedly.  But so far I have really enjoyed using it and am excited about the potential health benefits as well.
If you have not used coconut oil before, one of the first things to be aware of is that coconut oil becomes a solid (or turns into a shortening type consistency) when at room temperature or below.  Above about 78 degrees or so, it will return to liquid form.  I point this out so you will not be alarmed or confused by its appearance at room temperature.  The nice thing about this, though, is that the oil can be easily used in baking to replace butter and margarine (either substitute it for only half of the butter called for or if substituting for the whole amount, add about a teaspoon of liquid for better consistency in batter).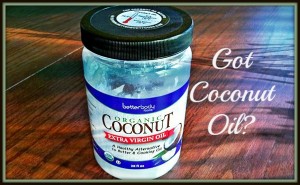 The coconut oil works well in our popcorn popper, as a substitute for half of the oil/butter we usually put in the popper.  The added flavor is actually very enjoyable!  Then recently I added it to a berry muffin recipe, using it in place of half of the margarine called for; it was a terrific replacement, adding a nice hint of coconut  flavor to the fruit muffins.  Coconut oil is also great for stir-frying!
So here are 3 basic recipes with coconut oil, to get you started using it and see what you think.   Would love to hear your thoughts and ideas in the comments below.
Sautéed Curried Cabbage – a spicy curried vegetable side dish fried up in coconut oil.
 Teriyaki Bowl – Stir-fry this delicious meal in coconut oil for a quick healthy dish.
And finally, a dessert, of course – Lemon Coconut Poundcake – Mmmm!
With benefits like helping our bodies fight off yeast, fungus and candida; boosting thyroid function, increasing metabolism and energy; improving cholesterol ratio levels; and helping the body burn energy more efficiently, adding a tablespoon or two of organic coconut oil to our diets each day seems to be a delicious way to help improve our health.  So, here's to you and yours!
And remember you can save any of these recipes and add your favorite recipes to your own online cookbook with Dish Dish when you set up your free account!  Remember to share us with a friend, too.
*Unrefined coconut oil has a mild coconut flavor and scent; refined coconut oil has no coconut scent or flavor and also withstands higher temperatures, but can also have trans-fats in it due to the refining process.