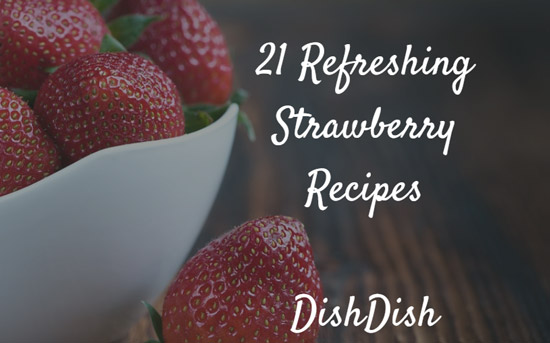 Strawberries – there is something about the bright red color, the anticipation of sweet, juicy goodness with that first bite, and the kid-like happiness of enjoying such a fruity delicious treat that leaves me wide-eyed and full of excitement about fresh strawberry season.
Strawberry Plants
When the kids were younger, we often spent time during the growing season visiting local berry farms to gather fresh strawberries, blueberries, and blackberries – tossing them into salads, muffins, breakfast treats, smoothies, and desserts until we'd had our fill, and then tossing the rest of them into the freezer for enjoying later in the year.
As a young teenager, we lived next door to a family who had a large field of strawberry plants, and in exchange for helping them with weeding, mulching, harvesting, our family enjoyed taking home baskets of fresh strawberries when they were ripe and ready for picking. Oh my! Such a treat, especially after having put in the hard work of cultivating and watching them struggle and grow.
(Start growing your own strawberry plants!)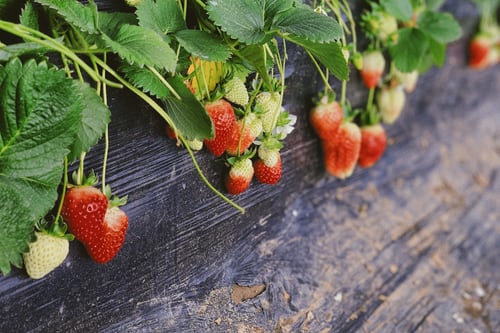 Strawberry Nutrition
While strawberries are so delicious, juicy and sweet, they are also really good for your health — full of antioxidants, vitamin C , manganese as well as other vitamins and minerals! Because of their fiber content and relatively low carb and sugar content, they are beneficial for heart and brain health and controlling blood sugar levels (good news for diabetics), as well as helpful in protecting our bodies against cancer and sun-damaged skin.
One cup of fresh strawberries contains less than 50 calories, 3 grams of fiber, just under 12 grams of carbs, about 7 grams of sugar, and strawberries have a low glycemic index value of 40. So, let's make sure we enjoy some of those strawberries regularly! (Pick up a bag of frozen or freeze-dried strawberries to enjoy when fresh ones are out of season).
Strawberry Recipes
Now let's get to those amazing 21 everyday refreshing strawberry recipes that your whole family is sure to gobble up and enjoy!
Breakfast
Strawberry Banana French Toast
Diced french bread pieces baked with strawberries, bananas, eggs and milk for a sweet breakfast treat.
Overnight Strawberry Fridge Oatmeal 
Mix ingredients and store in the fridge overnight for a healthy breakfast in the morning.
Whole Grain Lemon Buttermilk Pancakes with Strawberries
Breads
Oatmeal Strawberry Bread 
Quick oat bread made with applesauce and strawberries.
Strawberry Bread
Quick bread with strawberries (fresh or frozen) and chopped pecans.
Berry Cream Muffins 
Use strawberries or other favorite berries in these quick, easy muffins.
Smoothies
Strawberry Blast Smoothie
Full of strawberries, blueberries, raspberries, bananas, spinach, and carrots.
Breakfast Berry Smoothie 
Feel free to add other types of berries into this delicious smoothie any time of day.
Snacks
Brandied Strawberry Freezer Jam 
Strawberries with a little lemon and brandy, frozen in glass jars (no heavy-duty canning skills needed).
Nutty Strawberry Chicken Drumsticks 
Braised chicken pieces baked with almond butter and strawberry preserves.
Cool Strawberry Salsa with Cinnamon Chips 
Cinnamon tortilla chips served with strawberry, kiwi, cucumber salsa.
Salads
Strawberry Quinoa Salad with Toasted Almonds 
Texas 4H recipe with tricolor quinoa, strawberries and homemade citrus dressing.
Arugula and Feta Salad with Strawberries and Strawberry Vinaigrette 
Simple summer salad that's refreshing and delicious.
Strawberry Poppy Seed Salad 
Strawberries, romaine, and red onion topped with homemade poppy seed dressing.
Beverages
Strawberry Basil Soda 
Mocktail made with strawberries, basil, lemon juice and sparkling water.
Strawberry Agua Fresca
Jazz up your water with strawberries, mint, and a little lime.
Strawberry Lemonade Cooler 
Fresh lemon juice with fresh strawberries make a refreshing treat.
Desserts
Strawberry Shortcake from Bonefish Grill 
Copycat recipe dessert of shortcake biscuits with strawberries and cream with a sprig of mint.
Easy Strawberry Pie (similar to Shoney's)
Fill a pie shell with strawberries, strawberry jello, and cream for a cool treat.
Strawberry Balsamic Frozen Yogurt 
Strawberries, yogurt, honey and balsamic vinegar make a delicious frozen dish.
Strawberry Crisp 
Strawberries topped with oat crisp topping and baked to perfection.
Remember you can save and keep all your favorite recipes right here in your own digital recipe box and online cookbook at Dish Dish, so you can add ingredients to your grocery list, share recipes with friends and family, and always find the recipe when you need it! What are your favorite strawberry recipes or fun memories of picking strawberries as a family? Leave us a comment below and let us know!