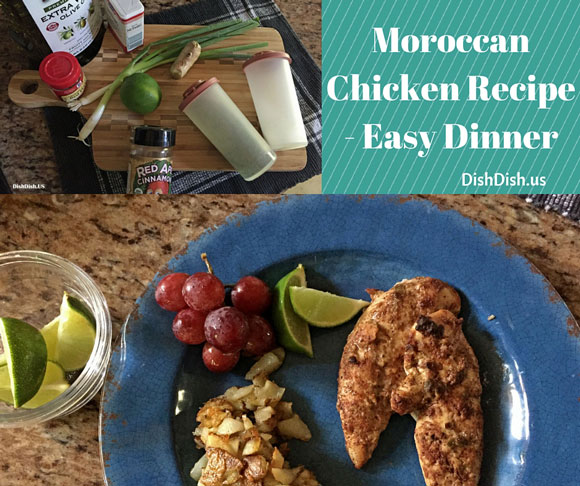 The fascinating thing about Moroccan cuisine is the wide variety of spices and herbs they use in their dishes.
Such a plethora of amazing flavors running the gamut from spicy peppers to savory herbs to "sweet" spices like cinnamon and nutmeg.  I say "sweet" spices, because I most often think of those spices being used in baking and sweet goods.
Using only a few of those spices, I loved the way this Moroccan Ginger Lime Chicken turned out (it's even dairy-free and gluten-free)!  It works best if you make the time to marinade the chicken thoroughly before cooking.
One of the best things about this recipe is that the chicken cooks under the broiler for only about 15 or 20 minutes, so cooking it doesn't heat up the whole kitchen (perfect for a summer meal in Texas)!
Throw it in the fridge in the morning (or the night before) to marinade until you're ready to cook dinner, knowing your entire meal will be ready in less than 30 minutes at that point.
I chopped up and combined the green onions, fresh ginger, lime zest, lime juice, olive oil, salt, pepper, nutmeg and cayenne (basically everything but the chicken pieces) and tossed them in a Ziploc bag.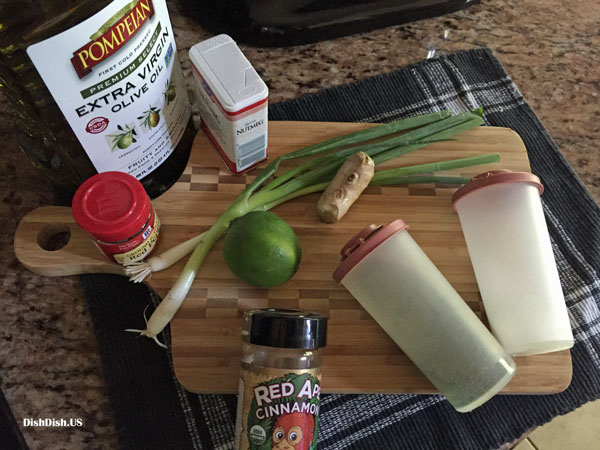 I added skinless boneless tenderloins (but you can use your favorite chicken pieces), and made sure they were covered with the seasoning mixture before tossing them in the fridge for the night.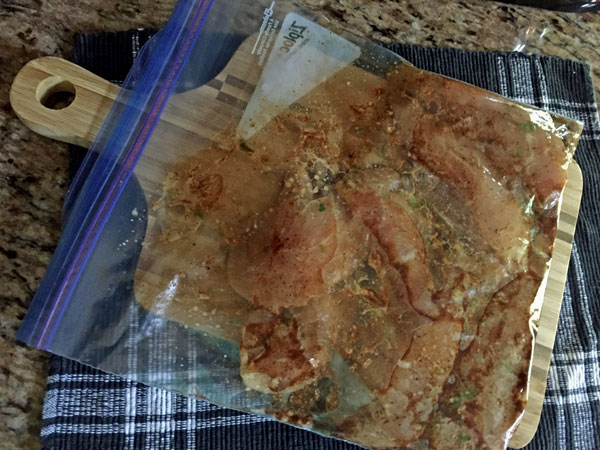 When I was ready to cook them up for dinner, I lined a baking sheet (with sides) with aluminum foil and coated it lightly with cooking spray.  Then I placed the chicken pieces on the pan, discarding the bag and remaining marinade.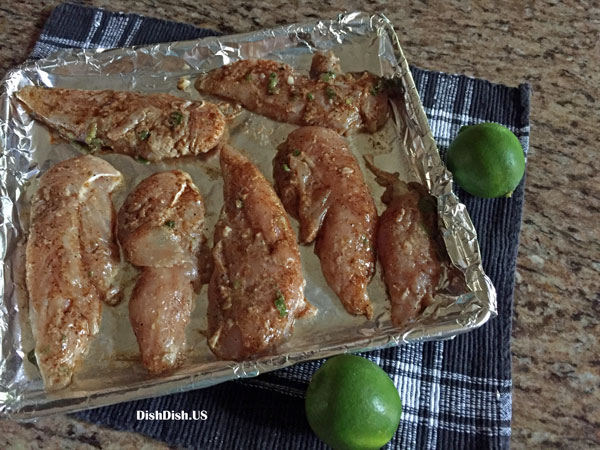 With the broiler turned on High, I placed the pan in the oven and cooked for about 15 minutes (but it might need up to 25 minutes depending on your oven and the size and type of chicken pieces you are using).  Cook until the thickest part of the chicken registers 165 degrees F.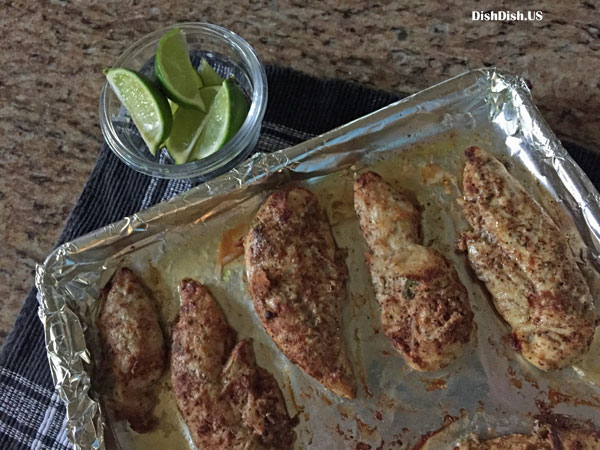 While that is cooking, toss together a light green salad or fruit salad, and cook a little couscous or rice for serving with the chicken.  I also like having it with green beans or potatoes.
And now your easy dinner is ready, full of a range of middle eastern spices and flavors, making a delicious meal for the whole family.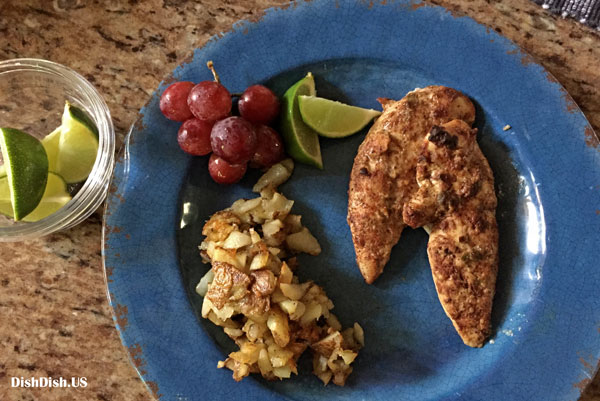 Moroccan Ginger Lime Chicken (for 6) – (click title to access recipe for printing and saving)
Ingredients:
· 1/4 cup chopped green onion or scallion
· 2 tablespoons chopped fresh ginger
· 2 tablespoons olive oil
· 1 tablespoon lime zest
· 2 tablespoons lime juice
· 1 teaspoon ground cinnamon
· 1 teaspoon salt
· 1/2 teaspoon ground black pepper
· 1/2 teaspoon freshly grated nutmeg OR ground nutmeg
· 1/8 teaspoon cayenne pepper
· 12 small skinless bone-in chicken thighs OR skinless tenderloins
Directions:
1. Pat chicken pieces dry and place in a ziploc bag or on a foil-covered pan.  Mix together all the seasonings with the olive oil and lime juice and spread over chicken pieces on the pan or pour over them in the bag.
2. Refrigerate for 2 to 24 hours until ready to cook.
3. When ready to cook, line broiler pan or baking sheet with sides with foil and coat the foil lightly with cooking spray.
4. Broil the chicken under a broiler on high heat until thickest part of chicken pieces registers 165 degrees F (about 15 to 25 minutes depending on the type and size of chicken pieces).
This is such an easy chicken recipe, and a great one for kids to help out with, learning how to season, marinate, and broil chicken for dinner.  What will you serve with your Moroccan Chicken this week? Leave us a comment below with your ideas and suggestions.  We love to hear from you!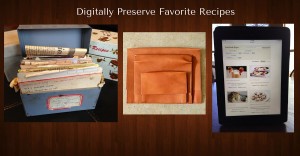 Turn your recipe collection into a digital online cookbook so you can keep your favorite recipes at your fingertips from any computer or mobile device, edit and scale recipes, create grocery shopping list and menu, and share recipes with family and friends any time.
Yes, I want my free online recipe box!
Related Posts:
Easy Recipes for Holiday Weekend