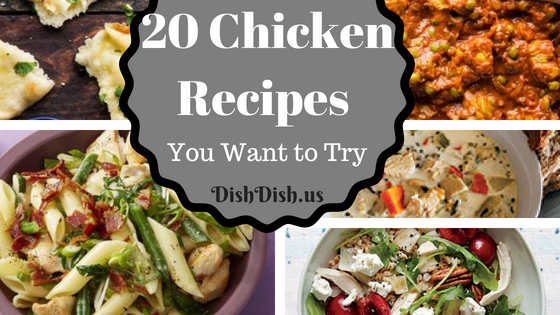 We eat lots of chicken at our house, and with these 20 amazing recipes, you and your  family can keep right on enjoying chicken, too, without getting bored eating the same types of dishes over and over again (which is often the challenge).
We have included options below that are not only delicious, but several that are also compatible with gluten-free, keto, paleo, and dairy-free diet restrictions. So there's no excuse to save a couple of these that stand out to you and try them in the next week or so.
Chicken is a lean, protein-packed main ingredient that is quite versatile in so many different types of dishes and with a variety of seasonings and cooking methods. Let's get started! (Click on recipe titles below to view full printable recipe.)
Loaded with chicken and broccoli mixed with pasta, and topped with a little shredded cheese, this casserole comes together quickly for a delicious meal.
Chicken pieces are cooked with carrots and peas in a curry seasoned coconut milk sauce in this spicy Jamaican chicken recipe. (dairy-free, gluten-free)
Chicken breasts coated in a thickened teriyaki sauce made with soy sauce, mirin, ginger, garlic, and red pepper; baked until cooked, moist, and ready to dish up over your favorite rice, noodles or salad ingredients.
Chicken breasts cooked in the crockpot with wing sauce and ranch seasoning, and a little butter and whipped cream cheese stirred in at the end before shredding and serving (as sandwiches or a topping for baked potatoes or salad).
Marinated in olive oil with garlic, mustard, rosemary, and lemon juice, tender chicken pieces are grilled to savory perfection. (keto, paleo, gluten-free, dairy-free)
Shell pasta baked with taco seasoned chicken, beans, peppers, onions, seasonings, and cheese in enchilada sauce; topped with sour cream and garnishes for serving.
Tenderized chicken pieces, flattened and braised, then served with Greek salad (greens, kalamata olives, cherry tomatoes, cucumber, mint, parsley, feta, and pepperoncini) on top.
Sauteed chicken mixed with blanched green beans, fresh corn and cooked farro, topped with a simple homemade dressing and crumbled goat cheese.
Chicken pieces marinated in balsamic vinaigrette and seasonings, roasted with broccoli, carrots, mushrooms and onion with some cherry or grape tomatoes tossed in at the end. A yummy terrific blend of flavors all cooked in one pan for easy prep and clean up! (Gluten-free, dairy-free, paleo)
Chicken, basmati rice, and traditional Indian seasonings in a spicy, creamy yogurt sauce.
Braised chicken served in a creamy sauce with fresh spinach and sundried tomatoes; serve over your favorite rice or pasta for a more filling meal.
Chicken pieces are threaded onto skewers with pineapple and sweet bell peppers, coated with a BBQ and orange juice sauce, then grilled to perfection. (dairy-free, gluten-free, paleo)
Creamy chicken salad made with diced apples and dried cranberries for a crunchy sweet treat; serve with crackers, on crescents or buns, or on a bed of lettuce for lunch or dinner. Especially easy meal for a relaxing summer evening.
Cooked chicken with celery, wheat berries, apple, grapes, and pecans served over a bed of butter lettuce with a drizzling of homemade yogurt vinaigrette.
With diced chicken, green chilies, navy beans, spinach, and seasonings, topped off with a scattering of shredded cheese, this quick, easy soup is a hearty twist on regular old chicken soup.
Grilled chicken served up on warmed corn tortillas with pepper jack cheese, onion, cilantro, lime and your favorite hot sauce or salsa.
Diced chicken thighs cooked with celery, carrots, onions, and seasonings with fresh spinach and cream stirred in at the end for a creamy savory stew. (keto friendly)
Creamy casserole of chicken with artichoke, spinach, and cheeses; options for baking or making in the crock pot.
This spicy chicken dish is cooked up with a creamy spicy jalapeno and cilantro sauce.
Spicy southwest chili made with chicken, black beans, tomatoes, corn, peppers, olives, and seasonings; serve topped with a dab of cheese and sour cream for a delicious evening meal.
What are your favorite chicken recipes, and which one of these looks like something you and your family will try soon? Leave us a comment with your thoughts and ideas; we love hearing from you!