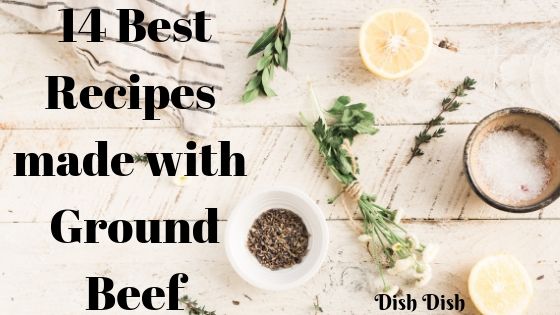 We have all been there – that moment when you look in the fridge or freezer, realize you have ground beef to cook up for dinner, but have no idea what to do with it (since perhaps the weekend was too hectic for you to put together your normal meal plan for the week). (Photo above by Brooke Lark on Unsplash)
Or maybe, like me, you came home with pounds of ground beef from the big box store or your local butcher and suddenly thought, "Wait! I don't want to make the same three or four dishes over and over!"
Not to worry. Today we're sharing some favorite (and perhaps unique) recipes made with ground beef, so you can try something different to add to the rotation or try several different things and broaden your family's culinary horizons. So let's get started! (Click on the title of each recipe to view detailed recipe).
First, always be sure to handle ground beef safely to reduce any risk of food-borne illness or bacteria affecting other food and kitchen items.
(Remember you can save your favorite recipes in your own Dish Dish recipe box today for easy meal planning and shopping for groceries).
1. Ground Beef Stroganoff Casserole – For this casserole, cooked noodles are tossed with mushrooms and ground beef in a creamy sauce with Worcestershire, beef broth and sour cream, layered with mozzarella cheese and baked for a hearty meal that takes less than an hour to put together.
2. Beef Enchiladas – Ground beef is cooked with yellow onion, garlic, black beans, taco seasoning, and some enchilada sauce, then scooped into and rolled up in flour tortillas, topped with more enchilada sauce and grated cheese before baking. It is so yummy! Top it with your favorite garnishes like olives, cilantro, sour cream, jalapenos, avocado …. and enjoy!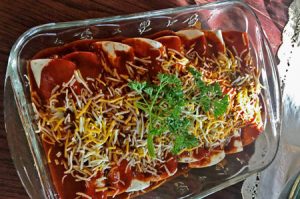 3. Devi's Vegetable Beef Soup – This soup comes together quickly with canned (or frozen) vegetables along with ground beef in a beefy tomato broth seasoned with onion, oregano, basil, and bay leaves. It's delicious served with pita chips, favorite crackers, or simply topped with a sprinkling of your favorite grated cheese.
4. Beefy Stuffed Zucchini – Dish up this healthy meal with ground beef, onion, peppers, and seasonings in a tomato sauce base, stuffed into hollowed-out zucchini "boats" and baked topped with some mozzarella cheese for a delicious family dinner.
5. Italian Beef Macaroni Casserole – This dish reminds me a little bit of a baked goulash or homemade version of Hamburger Helper. Ground beef cooked with onion, garlic, oregano and basil, simmered with tomatoes, beef broth and paprika, tossed with cooked macaroni and cheese before baking into a fabulous gooey meal that kids and adults will both enjoy.
(below photo by Photo by Jason Leung on Unsplash)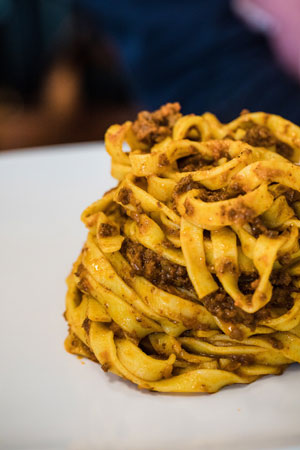 6. Beef and Rice – This recipe comes to us from a Texas 4-H member, and is very quick and simple for when you only have a few minutes for dinner. Brown the ground beef, and toss with cooked minute rice, black beans, and chunky salsa, and sprinkle some grated cheese over top for a quick Beef and Rice bowl that's ready in no time.
7. Crockpot Beef Tortilla Casserole – A hearty tortilla casserole layered up in the crockpot for easy cooking and serving; it does take a little time to get all the ingredients together and ready to layer in the crockpot, so leave enough time to do that. Don't leave it in the crockpot too long – because the tortillas can get soggy. It has lots of great flavor, though, with beef, black beans, corn, taco seasoning, enchilada sauce, cheese, and tortillas.
8. Pasta with Beef and Beans – Five cheese ravioli and broccoli florets served up in a tomato beef sauce made with ground beef, northern beans, tomatoes and seasonings, topped with some shredded Parmesan. This recipe, too, comes from a Texas 4-H member.
9. Rich Beef and Tomato Ragout – Ground beef cooked with rutabaga, grape tomatoes and seasoned with red chili, cinnamon, basil, onion and garlic.
10. Beefy Bean-a-Roni – Macaroni, ground beef, red beans, celery and sloppy joe sauce are baked together and topped with cheddar cheese.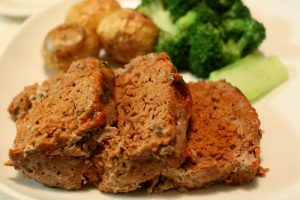 11. Mom's Meatloaf – An old-fashioned traditional meatloaf seasoned with onion, garlic, Worcestershire, bread crumbs, egg and sage.
12. Southwest Stuffed Peppers – Stuff bell peppers with taco-seasoned ground beef (or ground turkey), rice, black beans, corn, and cheese and enjoy a healthy dinner!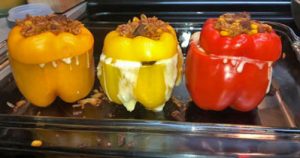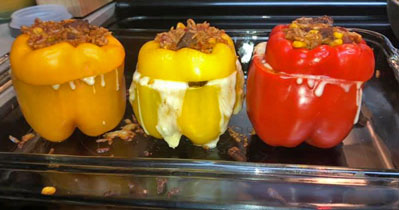 13. Taco Salad – This meal is easy and quick to have on the table in less than 30 minutes. Cook the ground beef with taco seasoning and beans, then layer tortilla chips, meat mixture, lettuce, cheese, tomatoes, avocado, or other favorite salad toppings (which can be prepped while meat and beans are cooking). Voila!
14. Spaghetti and Meatballs – A traditional fairly quick recipe for homemade meatballs served up in spaghetti sauce over noodles. Yum!
Do you have other favorite recipes made with ground beef? We'd love to hear about them in the comments below. Thanks for stopping by!