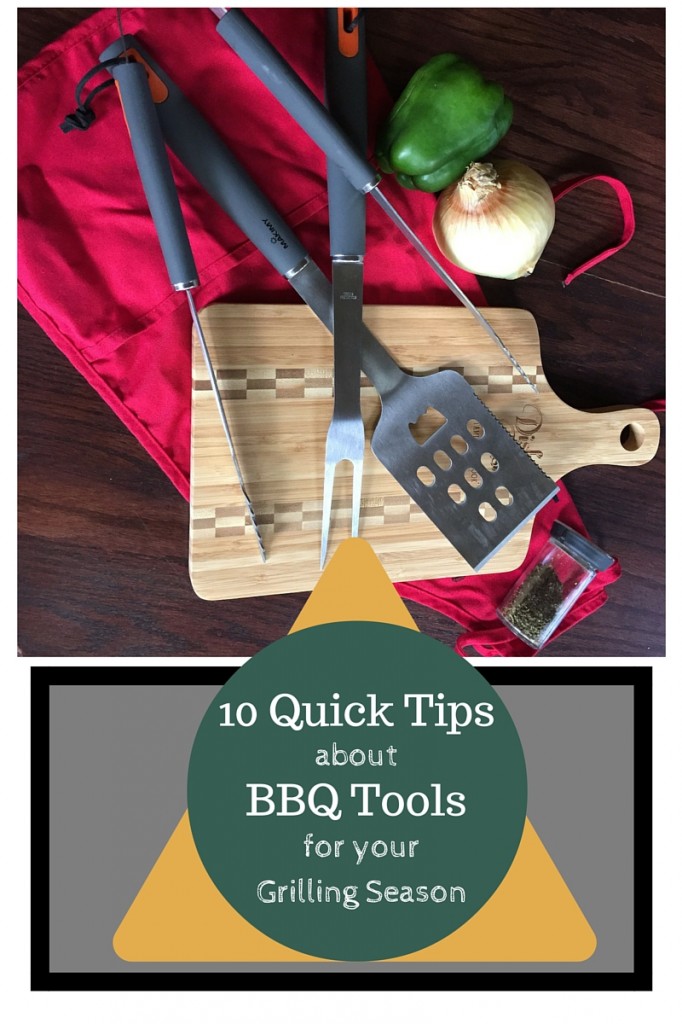 Is there ever a bad time of year for cooking up some delicious BBQ on the grill? Okay, maybe if you live where there is snow 6 months of the year, but around here we can use our barbecue grill just about year-round.
One of the frustrating problems with grilling, though, can come if your BBQ tools are not quite sufficient or up to the task. I mean, don't you just love it when you grab a piece of meat to take it off the grill and lose your grip, … watching helplessly (in slow motion) as it falls through the grate (or to the ground)?
Yikes! And after all that hard work!
So, if you're gearing up for grill season and thinking about what kind of tools you'll need, we have 10 quick tips about BBQ tools for a grand grilling experience!
I really enjoyed using the Makimy BBQ Tool set this week for our BBQ dinner. (I did receive a set for this post; all opinions expressed are wholly my own).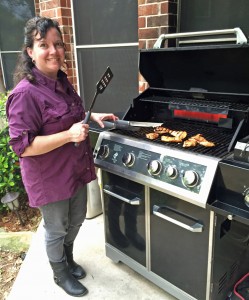 1. Length of Tools
The length of the tools, especially the spatula, is particularly relevant since you want to be able to safely reach in across the hot grill to flip burgers, rotate corn on the cob or potatoes without having to hold your hands too close to the hot flame, right?  A good length is around 16 inches, making it long enough to keep hands safe, but not too unwieldy to handle.
2. Heat Resistance
Pick out tools made from a sturdy and heat resistant material, so they won't bend or start to melt on you when they are over the fire a little too long.
3. Good Handles
Thick silicone handles provide a comfortable handle and grip while also providing protection from the heat of the stainless steel portion of the tool.  Make sure the material is comfortable to grip, too, so you don't get cranky if you have to work with them for very long.  If the handles are plastic, they probably won't hold up as well to the heat, even if they are marked "heat resistant".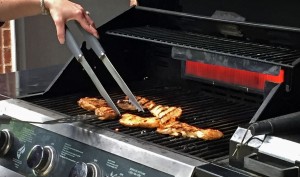 4. Strength and Sturdy Grip
Look for tools that are strong enough to handle picking up a heavy roast or rack of ribs and with a strong enough grip (speaking of tongs) that you don't drop those ribs after grabbing hold of them.
5. Hanging Option
This feature is really just a "nice-to-have" option, but tools with a cut-out or loop for hanging them up are nice to have for easy hanging on grill hooks (if you have them) or storing on cabinet hooks rather than in a cluttered drawer of kitchen gadgets.
6. Serrated Edge
It's really nice for the spatula to have a serrated edge for tenderizing meat or to make a necessary cut while at the grill.  It probably isn't something you'll need to use often, but definitely nice to have instead of searching around for another tool to do that job when you're ready to get cooking.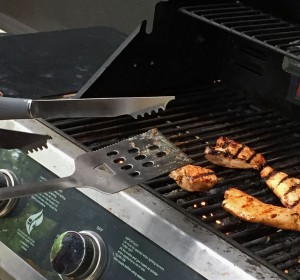 7. Prongs or Scallops on Tong Edges
While at first this design may seem more for aesthetics than utility, since it is pleasing to the eye, having those prongs on the side of the tongs makes it much easier to pick up or move around small items on the grill, such as asparagus stems or sliced veggies, without losing them through the grates.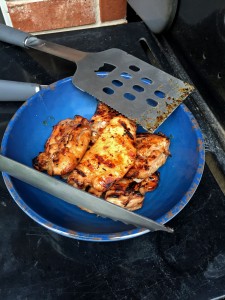 8. Dishwasher Safe
Okay, this should be a no-brainer, because who really wants to spend any more time than necessary on clean-up after enjoying this great BBQ dinner.  It's really nice to simply toss those babies in the dishwasher for an easy clean.  And after running this set of tools through the dishwasher, they came out crystal clean and none the worse for wear!
9. Strong Stainless Steel
While most BBQ tools tout being made of stainless steel, look for a heavy-duty, professional grade option if you use the tools consistently.  The heavy-duty not only feels great when handling, but is strong enough to endure regular use without giving way under the heaviest grilling tasks.
10. Bottle Opener
Okay, we left this one 'til last, but the BBQ spatula with the Makimy set has a built-in bottle opener; definitely not a must-have, but seriously handy for popping the lid off a nice cold drink while you're slaving over the grill.  (Just keep a paper towel or rag handy for wiping off the spatula, if needed, before opening up your favorite beverage.)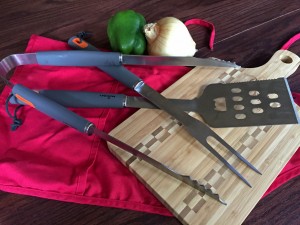 The Makimy BBQ Tool Set stood up to all of our expectations and desired features.  The tongs have a very strong grip, without being difficult to squeeze and maneuver.  The beveled edge on the spatula made it easy to slide under the items on the grill.  They cleaned up really well in the dishwasher, and are so sturdy that I'm sure they'll last a very long time.
My husband commented that he really liked them as well (even though I did the cooking this time around); he liked the grip, strength, feel, and look of the tools – so they would make a great gift, too!  (And my favorite use for the fork tool is roasting a couple of marshmallows over the flame for s'mores – hehehe!)
Claim a 25% coupon discount from Makimy to order a set for yourself or a friend (and get their exclusive recipe e-book, too).  (We receive no funds from this, but are glad to offer our readers a discount).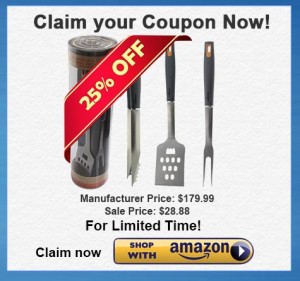 A grill brush, thermometer, and sturdy basting brush are some additional tools to consider when decking out your barbecue grill for grilling season.
Some great grilling recipes for you to enjoy:
Grilled Chicken and Corn with Jalapeno Lime Dressing
Mojito-Marinated Fish with Avocado Chopped Salad